Why Are Tennis Bracelets Called Tennis Bracelets?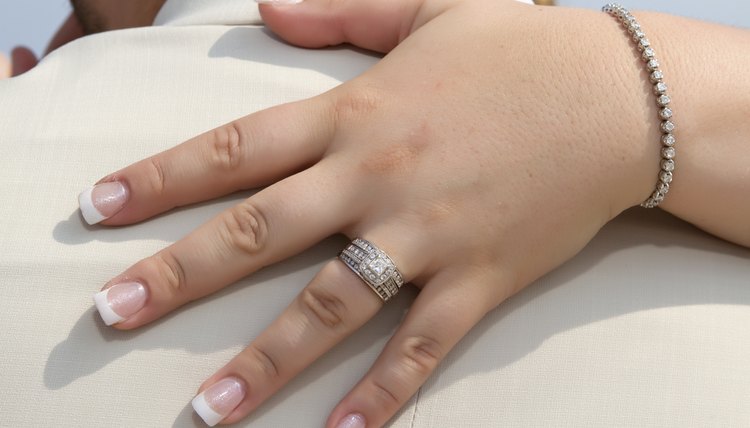 Tennis bracelets are 20th century inventions that use small diamonds to create a single bracelet. They weren't called "tennis" bracelets until after a tennis star's jewelry malfunction. The attractive bracelets, sometimes also known as eternity or inline bracelets, can cost hundreds to tens of thousands of dollars, depending on the style, size and stone.
History
In the 1987 U.S. Open, tennis star Chris Evert was playing a vigorous match. In the middle of the game, she asked the officials to stop the game because her diamond bracelet had come unclasped and fallen on the court. She asked for time to search for and retrieve her bracelet. Since that time, the bracelet has been referred to as a "tennis bracelet."
Form
The form of a tennis or an eternity bracelet makes it ideal for sporty women whose active lifestyle doesn't lend itself to the wearing of bangles or heavy jewelry. The bracelet is lightweight and flexible, making it less likely to get banged or dinged when playing a sport such as tennis.
Warning
If you are wearing a tennis bracelet, avoid the error that generated its name. Evert's bracelet did not have a safety clasp on it, which is why it fell off. Make sure that the tennis bracelet you wear, whether to a party or on the court, includes a clasp that you can secure tightly to avoid losing the bracelet.
Features
Tennis bracelets have inline diamonds and a flexible, serpentine-like structure. Many feature colored stones, such as aquamarines or emeralds. Be cautious with these stones, though. Diamonds not only are the traditional stone of a tennis bracelet, but they also are harder and less prone to damage than softer, colored stones.
Expert Insight
When buying a tennis bracelet, look at how you will wear it and make sure it has stones and a setting that give you the flexibility you need. Tennis bracelets measure the overall carat weight, not the weight of individual stones. Look for the traditional characteristics you look for in a diamond: cut, clarity, color and carat weight.
Writer Bio
Carolyn Williams began writing and editing professionally over 20 years ago. Her work appears on various websites. An avid traveler, swimmer and golf enthusiast, Williams has a Bachelor of Arts in English from Mills College and a Master of Business Administration from St. Mary's College of California.