What Is the Russian Kettlebell Challenge?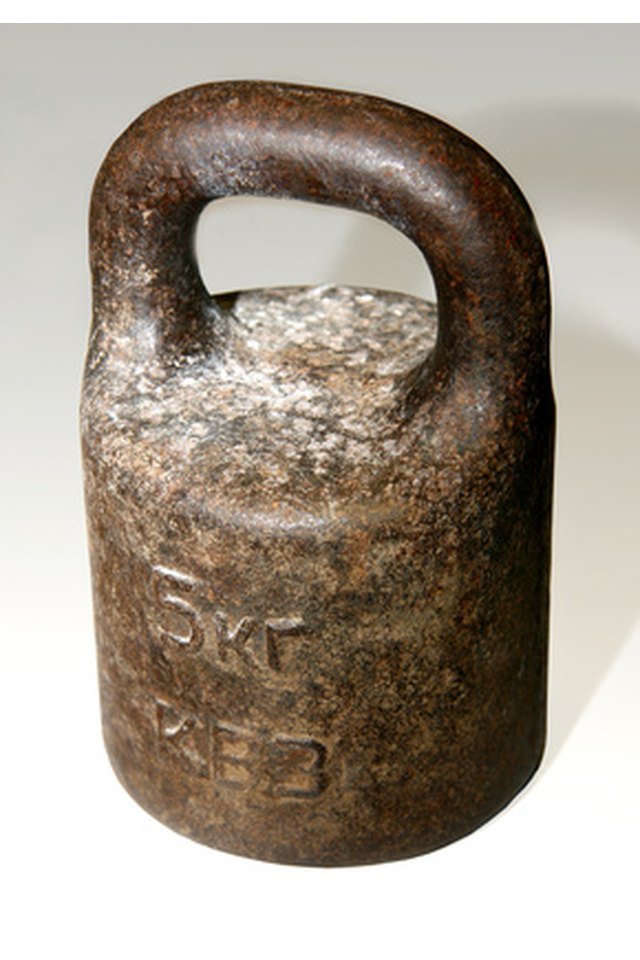 There are countless trends on the market these days helping people accomplish fitness goals. From the barbell that vibrates to the plethora of pills that promise to burn fat twice as fast, it can be mind-boggling. One fitness method that is taking off around the world is the Russian kettlebell, but this is no new trend.
About Kettlebells
A kettlebell is a specialized weight often described as a cannonball with a handle. The use of these tools originated in Russia for over 300 years ago when they were originally used as counterweights at the market. The Russian Kettlebell Challenge is a program consisting of a specific method of training and was made popular in the United States by Pavel Tsatsouline, a former fitness instructor for the Soviet Special Forces.
Development
John Du Cane built the Dragon Door Company, the publishing and marketing end of this kettlebell regime. He began practicing tai chi in 1975 and since then has written several books and produced numerous DVDs about martial arts. Tsatsouline, born in Belarus in 1969, applied his studies in physiology and coaching as a drill instructor in the Russian Spetsnaz, or Special Forces to develop the Kettlebell Challenge. He brought his kettlebell strength and ideas to the U.S. and teamed with Du Cane, which is when the Russian Kettlebell Challenge was born.
Russian Kettlebell Challenge
The Russian Kettlebell Challenge, or RKC, is a program design using kettlebells to build strength, shed unwanted body fat and create a challenging cardiovascular workout. There are other fitness programs that utilize kettlebells, but most are based on the principles of the RKC program and many lack the proper form, safety or certified instructors who have been trained by Tsatsouline himself. The RKC course was kicked off in 2001 and Tsatsouline was the first course instructor in the U.S.
RKC Training
Training with kettlebells uses a somewhat unusual format compared to other fitness programs. There are ballistic movements and lockouts of joints, things traditionally thought to be unsafe. But RKC certified instructors--trained by the RKC staff, which either passes or fails candidates--are well-versed in safe form and correct techniques. According to Tsatsouline, only 8 percent of Russian gireviks--"kettlebell man"--have reported injuries during training or competition. Results from kettlebell training include increased strength, stamina, flexibility, cardiovascular function and reduced body fat.
Other Groups
There are other kettlebell groups, including Crossfit and the American Kettlebell Club, but RKC says none have the equal form safety and universal appeal to all levels of fitness. Though somewhat new to mainstream fitness, Tsatsouline's RKC program is quickly gaining popularity worldwide.
References
"Enter the Kettlebell! Strength Secret of the Soviet Supermen"; Pavel Tsatsouline; 2006
Otto WH, Coburn JW, Brown LE, Spiering BA. Effects of weightlifting vs. kettlebell training on vertical jump, strength, and body composition. J Strength Cond Res. 2012;26(5):1199-202. doi:10.1519/JSC.0b013e31824f233e
Kettlebell Swing, Snatch, and Bottoms-Up Carry: Back and... : The Journal of Strength & Conditioning Research. LWW.
Jay K, Frisch D, Hansen K, et al. Kettlebell training for musculoskeletal and cardiovascular health: a randomized controlled trial. Scandinavian Journal of Work, Environment & Health. 2011;37(3):196-203.
Writer Bio
Mwenya Kasonde is a freelance writer who specializes in writing for the health and beauty disciplines. She has been writing professionally since 2006, and writes primarily for LIVESTRONG.COM. She holds a Bachelor of Medicine, Surgery, Obstetrics and Gynecology from the Royal College of Surgeons in Ireland, and is currently preparing a manuscript for her first comprehensive guidebook to depressive illness.