Golden Gloves Weight Classes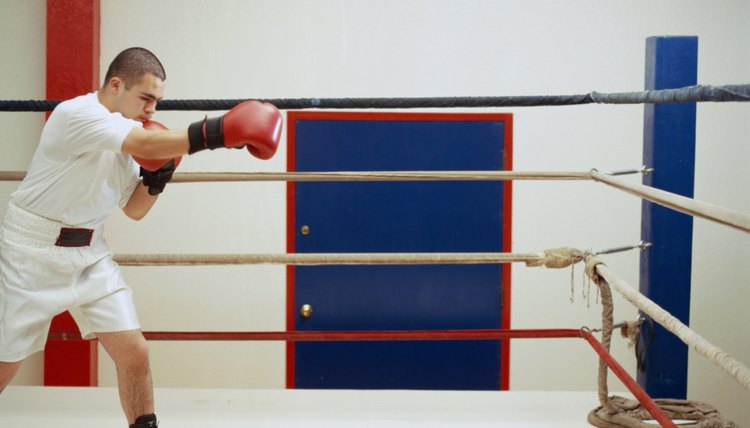 Golden Gloves is an amateur boxing organization in the United States. The organization sponsors both youth and adult boxing tournaments and has held national championship events since 1928. As with professional and Olympic boxing, Golden Gloves separates competitors into a variety of weight classes, allowing fighters of all sizes to compete on a reasonably level field.
History
The initial Gold Gloves national championship tournament, held in 1928, featured eight weight classes: 112, 118, 126, 135, 147, 160 and 175 pounds, plus a heavyweight division. Among the early Golden Gloves champions was future heavyweight legend Joe Louis, who won the 175-pound class in 1934. Muhammad Ali, then known as Cassius Clay, won the 175-pound class in 1959 and the heavyweight division in 1960. By the time Sugar Ray Leonard won his second Golden Gloves championship, in 1974, there were 10 weight classes, ranging from 112 to 178 pounds, plus a heavyweight division. There were 12 divisions in 1982, ranging from 106 to 200 pounds, plus a super heavyweight class.
Current
Beginning in 2010, Golden Gloves recognized 10 weight classes for men, beginning at 108 pounds and advancing to 114, 123, 132, 141, 152, 165, 178, 201 and 201-plus pounds. Regional competitions in these weight classes are held across the United States, where boxers earn the right to compete in the annual Golden Gloves Tournament of Champions.
Junior Golden Gloves
The Junior Golden Gloves weight classes vary with age. In the Bantam age group, for 9- and 10-year-olds, weight classes begin at 55 pounds and advance in 5-pound increments to 85 pounds, then top out with 95- and 145-pound weight classes. The Junior group, at 11 and 12 years old, begins at 60 pounds and progresses 5 pounds at a time up to 95 pounds. The top seven classes are 101, 106, 110, 114 119, 145 and 154 pounds. The 13- and 14-year-old Intermediate category contains 18 weight classes, starting at 70 pounds and advancing in 5-pound increments to 95. The weight classes progress by 4 or 5 pounds from 101 to 119 pounds, then advance to 125, 132, 138, 145, 154, 176 and 189-plus pounds. The 15- and 16-year-old Senior group contains 15 weight classes, beginning at 90, then advancing between 4 and 7 pounds up to 145 pounds. The heavier classes check in at 154, 165, 176, 189 and 189-plus pounds.
Women's Golden Gloves
Weight classes in women's Golden Gloves begin at 70 and 75 pounds, for the Intermediate (age 13 and 14) division only, followed by 80, 85 and 90 pounds, for the Junior (15 and 16 years old) division, then progressing to 95, 101, 106, 112, 119, 125, 132, 141, 152, 165, 178 and 178-plus pounds.
References
Writer Bio
M.L. Rose has worked as a print and online journalist for more than 20 years. He has contributed to a variety of national and local publications, specializing in sports writing. Rose holds a B.A. in communications.