The Best Qigong DVDs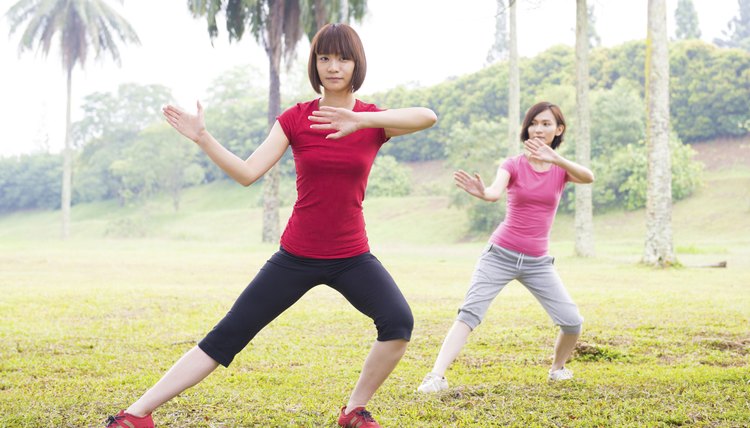 Qigong is a Chinese practice that combines slow-moving martial arts, breathing and meditation. Qigong is designed to help you harness and move energy in your body to promote healing. If you can't make it to a class, a DVD is a good place to start. A search through Amazon in 2013 produced 608 Quigong DVD titles. Five stood out with 4.5 stars with more than 50 user reviews.
Qi Gong For Beginners
Chris Pei, president of the United Wushu Acadamy and esteemed Tai Chi teacher, leads at-home practitioners through a Qigong workout suitable for all bodies and ages in "Qi Gong for Beginners." It has eight workouts ranging from five to 50 minutes long. The lessons help you learn the eight pieces of Brocade Qigong, an ancient practice with many mental and physical benefits. Each lesson is presented with clear instructions, and modifications. An interview with Pei is added as a bonus.
Qigong Beginning Practice
"Qigong Beginning Practice" was produced by fitness powerhouse, Gaiam. During the workout, Francesco Garripoli and Daisy Lee-Garripoli take you through a gentle and basic 65 minute workout. The DVD claims to help boost immunity and provide a way to a long, healthy life. In addition to flowing poses and breathing, you'll also learn visualization techniques. As a bonus, the double-disc sets includes the PBS documentary, "Qigong: Ancient Chinese Healing for the 21st Century."
Qigong Healing Form Level-1
The goal of Qigong is to promote healing by harnessing and moving the flow of energy in your body. With "Qigong Healing Form Level-1" you can see the intended flow of energy through animation and special effects. The 40-minute routine includes five-element meditation, Taoist stretching and Qigong walking, all of which are designed to help increase your metabolism and enhance your immune system. Calming music creates a relaxing at-home atmosphere.
Qi Gong for Cleansing
"Qi Gong for Cleansing," with the Garripolis is designed to help you detoxify and cleanse your body. This DVD is intended to help you move energy in your body through 13 Qigong movements. These movements help to remove toxins from your body and internal organs. Each movement is broken down with simple to follow steps. At the end, each movement is put together to show Qigong flow.
Lee Holden: Qi Workout Am/Pm
Lee Holden is a Qigong master and has appeared many times on PBS. In his video, "Qi Workout AM/PM," Holden attempts to provide a refreshing Qigong routine for morning, and a relaxing routine for evening. The AM routine is designed to get students energized, while the PM routine instills a sense of calm and ease. It also gives new students information and guidance to develop a daily Qigong practice.
References
Writer Bio
Shawnee Randolph is a yoga teacher and writer in Salem, Ore. She holds a Bachelor's degree in English: journalism from Corban University, and completed her 200-hour yoga teacher training at Heartsong Yoga in Beaverton, Ore.