Differences Between Callaway Golf Balls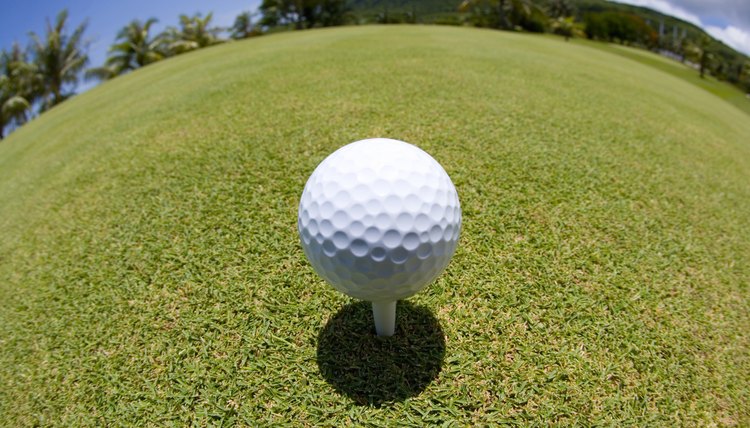 Callaway golf balls may look similar on the outside with hexagonal depressions instead of traditional dimples, but there are differences underneath that cover. The company constructs its golf balls in two, three or four layers, and each type has its own attributes. Callaway's website offers an interactive guide to help you select the golf ball that is right for you based on your skills and budget.
Two-Piece Balls
The two-piece Big Bertha Diablo golf balls are at the lower end of the price scale. Callaway says these balls feature a firm cover and a low compression core. They are designed for excellent distance, low dispersion and soft feel. The Callaway Diablo made it onto Golf Digest's Hot List for golf balls in 2009. It awarded the Diablo a silver medal in the category of balls in the $22-to-$35 price range.
Three-Piece Balls
If you want more control and do not mind spending a little more money, take a look at Callaway's three-layer golf balls. Callaway says its HX Hot Plus is its longest three-piece golf ball. The Solaire is designed to provide a soft feel with a bit more distance control. Callaway's most expensive balls with three-piece construction are called HX Bite. Callaway says they are designed to generate spin around the green with a soft, thin cover. The HX Bite has a firm mantle over a medium compression core to give you distance off the tee. Golf Digest lists the Callaway HX Hot Bite as a Gold Medalist in its 2009 rankings of the best golf balls in the $22-to-$35 price range.
Four-Piece Balls
The top of the line Tour series four-piece balls are the most expensive. The company says the Tour i(s) and Tour i(z) golf balls are made with a dual core to provide low spin off the driver to give you distance down the fairway while still providing great spin for your short game. Callaway notes the Tour i(s) is best for precision while the Tour i(z) is best for adding distance, power drives and precision. Golf Digest named the Callaway Tour balls silver medalists in its 2009 rankings of golf balls in the over $40 category.
Women';s Golf Balls
Callaway also sells golf balls designed for use by women. The Solaire is a two-piece ball designed for peak performance at slower swing speeds. Callaway says it is best for adding distance and precision. The Pearl is a three-piece ball with a softer rubber core that is best for adding distance.
References
Writer Bio
Carol Ochs is an award-winning writer in the Washington, D.C. area. During 17 years with The Associated Press she covered health, medical and sports stories as a writer, editor and producer. She has written for the health section of "The Washington Post," a Fairfax County stewardship publication and a biopharmaceutical newsletter. Ochs has a Bachelor of Science in journalism from Ohio University, Athens.