Muscle Building With Rhodiola Rosea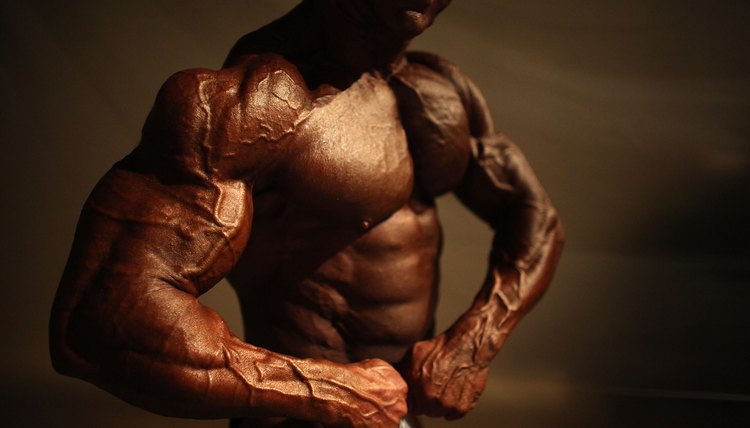 Rhodiola rosea is an adaptogen -- a natural herb that can help your body adapt to stresses. (Ref 1) While it may not be associated as much with bodybuilding and strength training as other supplements such as creatine or protein powder, rhodiola rosea may still play a role in your muscle-building plan.
Delaying the Stress Response
Adaptogens don't stop you from getting stressed, but they do help even out peaks and troughs of stress, notes David Hoffman of the California School of Herbal Studies. (Ref 1) Training, while beneficial for building muscle, is still a stress. When you lift weights, you put your body under pressure and break down muscle tissue. By controlling stress levels, you may be able to train more efficiently and intensively.
The Cortisol Connection
Under times of stress, your body release more of the hormone cortisol. Cortisol is a catabolic hormone, meaning it breaks down tissue -- the exact opposite of what you want when looking to build mass. Rhodiola rosea can help to blunt this release of cortisol though, according to sports scientist Jim Stoppani. This also increases your levels of anabolic hormones -- mainly testosterone -- leading to better growth and recovery. (Ref 2)
Increased Energy
Another main potential benefit of rhodiola rosea is the increased energy it may provide. Rhodiola rosea can stimulate production of adenosine tri-phosphate and creatine phosphate -- ATP and CP -- which are your muscles' main energy source for explosive contractions, writes Dr. Richard Brown in "The Rhodiola Revolution." (Ref 3) An increase in ATP and CP could help you push out that extra rep, or lift a little heavier, thus accelerating your gains.
The Role of Rhodiola Rosea
In the grand scheme of things, rhodiola rosea supplementation is unlikely to have a drastic effect on your muscle gaining progress. The Australian Sports Commission classifies rhodiola rosea as a group C supplement, meaning it has no meaningful benefit and a lack of evidence behind it. (Ref 4, p. 2.) When building muscle, your priority should be on a healthy, high-calorie diet, along with a progressive training plan. Before taking any supplement, consult with your Doctor to check it's safe to do so.
References
The Rhodiola Revolution: Transform Your Health with the Herbal Breakthrough; Dr. Richard Brown & Dr. Patricia Gerbarg
Tips
Consult with your doctor before beginning supplementation with rhodiola rosea.
Warnings
Rhodiola root does not contain stimulants, but it may keep you awake when taken before sleep.
Writer Bio
Andrew Bennett enjoys exploring health and fitness through his personal workouts, as well as researching the latest about the subject. As a natural body builder, Bennett enjoys the ongoing pursuit of health and wellness in all aspects of life. He writes articles, blogs, copy, and even award-winning screenplays.