Types of Goggles That Fit Over Glasses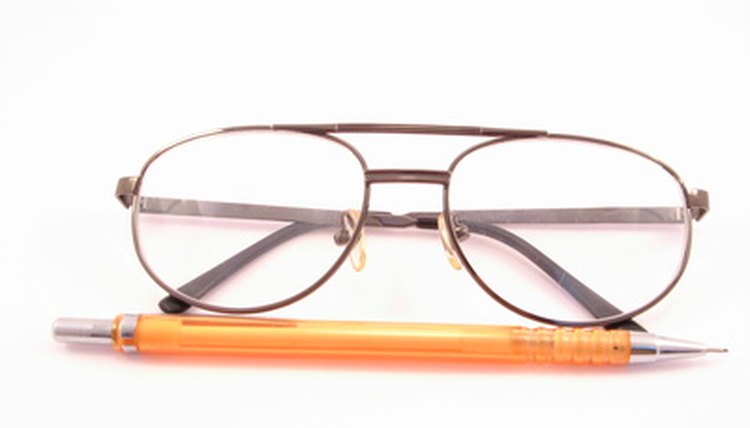 If you wear glasses and are willing to spend the money, you can get prescription lenses made for goggles. But if you don't want to go to that trouble and expense, there are a variety of goggles you can wear over your glasses. Shop stores and online retailers to find the goggles best suited for your needs.
Ski and Snowboard Goggles
Skiers and snowboarders need goggles to protect their eyes from the elements, and companies such as Bolle, Spider, Fast Track and Scorpion make goggles large enough to fit over prescription glasses. The price varies, depending on what you want. You can find goggles in a variety of tints and with scratch-resistant coatings. Some offer maximum UV protection, are designed not to fog up, and feature top and bottom vents. Some come in sizes to fit children and adults.
Safety Goggles
People who work in construction or with hazardous materials are among the many who might need safety goggles. There are a variety of safety goggles that fit over glasses. Some are designed with a specific purpose in mind, such as the John Deere chemical splash goggles, which are made to protect eyes from impact and splashes. The Crews Verdict Indirect Vent Goggle with Anti-Fog Clear Lens can be worn with half-mask respirators. Depending on your needs, look for lenses that offer protection from glare, scratch-resistance or anti-fog design.
Motorcycle Goggles
If you need prescription glasses, you're legally required to wear them when you're driving. Some manufacturers offer motorcycle goggles that fit over your glasses. These goggles can offer the protection of a shatterproof lens and come with clear or smoked lenses. Look for features such as UV protection, scratch resistant coating, anti-fog coating and straps that you can wear inside or outside a helmet.
Sunglasses
If you don't want to invest in prescription sunglasses, there are sunglasses such as Fitovers that you can wear over prescription eyeglasses. These offer protection from glare and UV rays, but don't offer the degree of safety protection that a traditional goggle might.
References
Writer Bio
Carol Ochs is an award-winning writer in the Washington, D.C. area. During 17 years with The Associated Press she covered health, medical and sports stories as a writer, editor and producer. She has written for the health section of "The Washington Post," a Fairfax County stewardship publication and a biopharmaceutical newsletter. Ochs has a Bachelor of Science in journalism from Ohio University, Athens.