The Best Summer Hiking Boots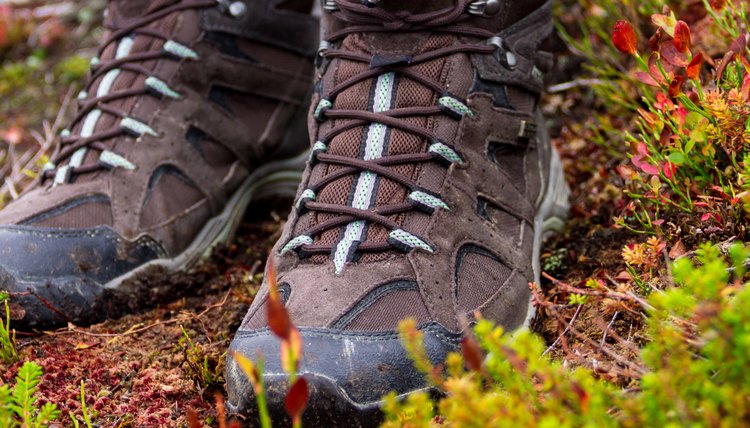 Hiking boots provide protection from sharp rocks and roots on a hike, and are critical for many hikers and backpackers as support for the ankles. On the hottest summer days, however, a pair of all-leather traditional hiking boots can be torturous for your feet. The best summer hiking boots are lightweight, breathable and don't skimp on the protection you need to put in the miles.
Protect Your Toes
Hiking boots are designed with a tough sole, which usually contains a plastic last for redistributing impact on a sharp rock. This durable, inflexible sole is critical for protecting your feet over long miles and reducing fatigue in your foot muscles. A pair of summer hikers should be just as protective and durable as traditional hiking boots, even if the upper portion of the shoe is lighter and more minimalist. Finally, the fit of your hiking boot is critical for your comfort and the prevention of blisters; try on several pairs at your local outfitter to find one that is suited to the shape, width and size of your feet.
Light and Airy
For summer, the ideal hiking boots have a mesh upper that allows your feet to breathe and speeds the evaporation of perspiration and water. A mesh upper is less durable than an all-leather boot, but the trade-off in comfort can mean the difference between a miserable hike and an enjoyable adventure. If your feet stay cool and dry, you'll reduce your chance of developing blisters from moist, macerated skin on your feet. Boots with a waterproof liner tend to be less breathable, which can make for sweaty feet in hot temperatures. Consider the likelihood you'll encounter wet conditions before deciding to go with a waterproof boot.
Writer Bio
Max Roman Dilthey is a science, health and culture writer currently pursuing a master's of sustainability science. Based in Massachusetts, he blogs about cycling at MaxTheCyclist.com.