How to Use Boot Hooks on Snowboarding Pants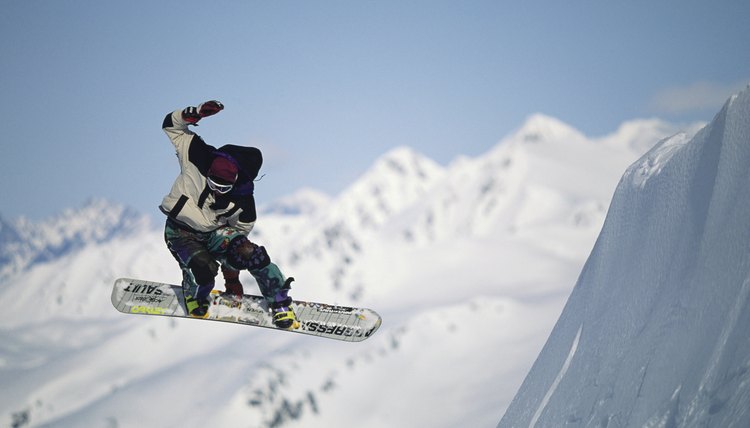 Snowboarding pants are an essential piece of gear, as they protect your legs from flying ice particles and frigid gusts of wind. Most snowboarding pants are made with breathable fabrics that let the outside air absorb your perspiration. The inner seams of the pants are covered with a fine layer of waterproof tape for increased protection. The bottoms of the pants are equipped with metallic hooks that connect to the laces of your boots. The hooks hold an elastic gaiter in place that helps to prevent snow from entering your pants.
Insert your legs in the waterproof snowboarding pants. Button the pants before sliding your feet into a pair of snowboarding boots. Bend your knees to lower yourself into a chair.
Tie the laces of the snowboarding boots to ensure a snug yet comfortable fit. Stretch the elastic gaiter located at the bottom of one pant leg. Pull the gaiter over the cuff of your snowboarding boot.
Fasten the metallic hook of the gaiter around one of the laces of your snowboarding boot. Repeat the process with the gaiter of the other pant leg to secure the boot hook in place. Extend your legs, and stand in a stationary position.
Walk forward slowly to ensure you can fully extend your legs in the snowboarding pants. Connect the boot hooks on a higher lace if they hinder your leg movement.
References
Resources
Writer Bio
Philip Foster has been writing professionally since 2010. His work has been featured in the literary-arts magazine "The PEEL" and the weekly newspaper "The Mountain Xpress." Foster is an expert in various extreme sports. He cooked in a restaurant that offered organic and vegetarian cuisine for over three years. Foster received a Bachelor of Arts in creative writing from Appalachian State University.