Specifications for the Aquaterra Keowee Kayak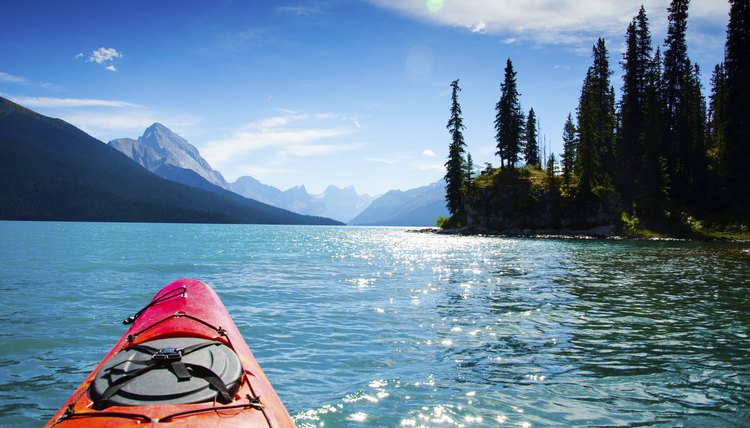 Kayaking remains a prominent recreational form of leisure and sport boating. Perception Kayaks manufactures kayaks for the various paddling disciplines. Its Aquaterra Keowee kayak offers a simplistic design for novice paddlers. The construction of the Keowee models helped to keep boaters stabilized while paddling and maneuvering the kayak. The Aquaterra Keowee kayak performs best in calm bodies of waters.
History
Perception Kayaks began marketing the Aquaterra Keowee in the early 1990s. Because Perception has created new and improved lightweight kayak design, it no longer makes the Aquaterra Keowee. In 1995, the company stated that the Aquaterra Keowee Kayak was at the time its most popular kayak.
Types
Perception Kayaks produced the Aquaterra Keowee kayak in two distinct types. The Keowee model was a solo kayak that could comfortably seat one paddler. The Keowee 2 model was a tandem kayak that could seat a maximum of two paddlers. Solo kayaks offer increased maneuverability, and tandem kayaks enable you and a fellow paddler to reach high speeds.
Size
Tthe length of a kayak is measured from the point of the nose to the tip of the rear. The single-person Keowee has a length of 9 feet 2 inches and a width of slightly less than 2.5 feet. Despite its dimensions, the Keowee can easily be carried because it weighs only 38 pounds. The Keowee 2 is 12 feet 10 inches long and about 3 feet wide. It weighs 61 pounds.
Function
The Aquaterra Keowee and Keowee 2 kayaks serve various functions. Both the single and double-person Keowee fall under the Sport series from Perception. According to Perception Kayaks, the Keowee models enable you to participate in bird watching and nature photography, and it is also an ideal fishing vessel. The wide design of the Keowee's hull allows you to easily move from side to side without worrying about capsizing the boat.
Features
The Aquaterra Keowee kayak consists of a compact design yet featured a roomy cockpit. The cockpit refers to the sitting area of the kayak that allows you to stretch your legs in front of you. The smaller seat of the single-person Keowee is ideal for young paddlers. Perception Kayaks reports that the Keowee features grab loops for easy transportation and a cup holder. Although designed for two paddlers, the Keowee 2 has a rear seat that a paddler could adjust easily for solo paddling. The Keowee 2 also features foot pegs that allow you to stabilize yourself while paddling.
References
Writer Bio
Philip Foster has been writing professionally since 2010. His work has been featured in the literary-arts magazine "The PEEL" and the weekly newspaper "The Mountain Xpress." Foster is an expert in various extreme sports. He cooked in a restaurant that offered organic and vegetarian cuisine for over three years. Foster received a Bachelor of Arts in creative writing from Appalachian State University.