The Size Standards of a BMX Bike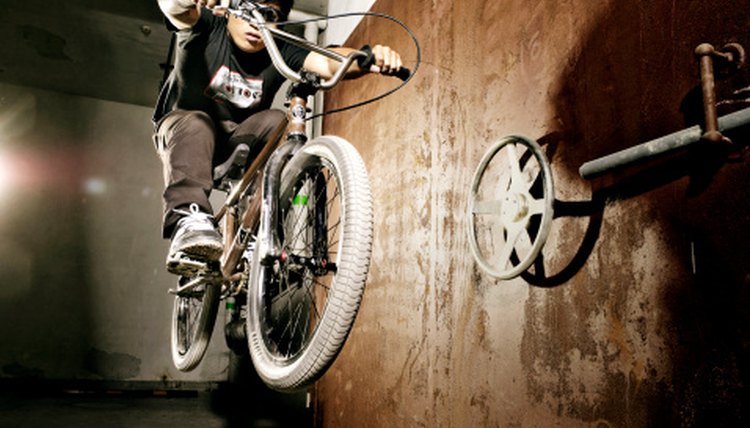 The BMX bike frame fluctuates in size to accommodate the varying statures of bikers. The components of the BMX bike are offered in numerous size options as well. Choosing the right size of BMX bike will allow you to maintain control during maneuvers and high altitude tricks. Select a BMX bike that meets your unique specifications to aid in the learning process.
Top Tube
A majority of BMX companies measure the size of the bike based on the length of the top tube. The top tube refers to the cylindrical bar that stretches between the saddle and handlebar system of the frame. According to the BMX experts at Dan's Comp, a rider with a height of more than 5 feet, 10 inches should ride a BMX with a 20.5-inch top tube. Junior riders should utilize a BMX that features a 17- to 18.5-inch top tube.
Axles
The wheel axle of the BMX bike has two standard sizes. The front wheel axle of the BMX bike has a diameter of 10 mm. The rear wheel axle has a slightly larger diameter that measures in at 14 mm. The larger rear axle has been built to withstand the high-impact maneuvers of freestyle BMX. Novice bikers often prefer a 10-mm front and rear axle as it offers a level riding stance.
Tires
The BMX tire has a diameter that ranges between 20 and 26 inches, according to Ride BMX Magazine. The size of the tire tread varies depending on the intended riding terrain. Tires that feature a large knobby tread offer increased stability on soft dirt trails and muddy courses. Tires with a smooth tread remain ideal for asphalt surfaces and cement ramps. Select a BMX tire with a medium amount of tread to ride on all types of terrain.
Handlebars
The width of the handlebars varies depending on the size of the BMX rider. Amateur riders with a height of less than 4 feet should use a BMX that features a handlebar width of around 20 inches. Full-sized bikers who stand less than 5 foot, 10 inches should utilize a handlebar system that features a width of 27 to 28 inches. BMX riders taller than 5 feet, 10 inches should upgrade to a 28-inch handlebar system.
References
Resources
Writer Bio
Philip Foster has been writing professionally since 2010. His work has been featured in the literary-arts magazine "The PEEL" and the weekly newspaper "The Mountain Xpress." Foster is an expert in various extreme sports. He cooked in a restaurant that offered organic and vegetarian cuisine for over three years. Foster received a Bachelor of Arts in creative writing from Appalachian State University.