Bowflex Pros and Cons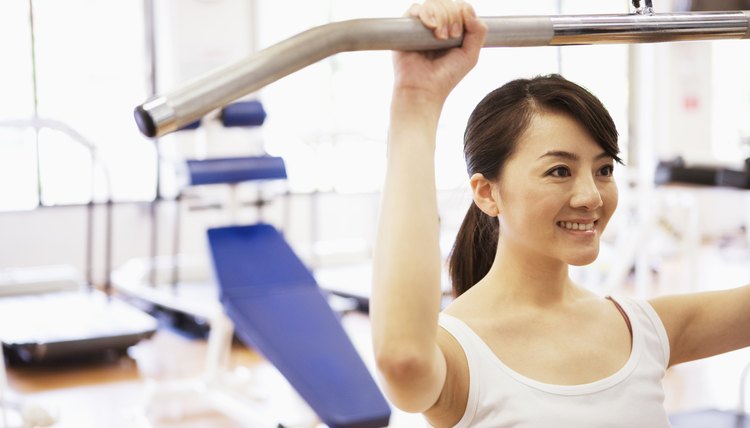 Bowflex is a producer of a home gym line. The home gym is designed to give you a full body workout without the need to purchase multiple pieces of equipment. It is available through numerous exercise equipment suppliers, including Sears and Dick's Sporting Goods. Before you buy a Bowflex, you'll want to evaluate the advantages and disadvantages of the workout system
Warranty
A positive aspect of the Bowflex is that each of the home gyms comes backed with a good warranty. The lowest end model, the Classic, has a five-year manufacturer's warranty while the highest end model, the Ultimate 2, keeps you protected for 12 years. Besides the warranty, Bowflex will typically offer a six-week money back guarantee if you are unsatisfied with the home gym.
Size
The Bowflex home gyms do not take up a lot of room. This can be helpful if you only have a small area to place the structure. It will typically take up about six to eight feet while in use. However, there are some foldable versions that can be compacted to take up less than 3 feet of space.
Exercises
Another positive thing about the Bowflex home gyms are that they have a lot of different exercises you can perform. On average, 50 to 100 exercises can be completed using the workout system. The exercises are described in your manual as well as available for download online. Additionally, the Revolution and Ultimate 2 includes a workout DVD.
Resistance
One of the drawbacks of the Bowflex is that for some people, the machine may not offer a lot of standard resistance. On average, each machine supports about 210 lbs. of standard resistance. Some other home gym models can support more than 400 lbs.
Assembly
Assembling the Bowflex can be time-consuming. An assembly manual will be included with your machine and will average about 50 pages of instructions and you may have as many as a 100 parts. Multiple hex wrenches are required for assembly as well as a screwdriver.
Price
A Bowflex can be costly, especially if you factor in shipping charges if you order the machine online. Although you can find the lower range models for under $1,000, most of the home gyms will cost upwards of a couple thousand dollars.
References
Writer Bio
Heather Topham Wood is a seasoned writer whose work has appeared in numerous publications, including USA Today, Gadgetell, Feel Rich and Step in Style. Heather is a published novelist with six Amazon bestsellers and a contract through Crescent Moon Press. She holds a bachelor's degree in English from TCNJ.