NordicTrack T5 ZI Treadmill Specifications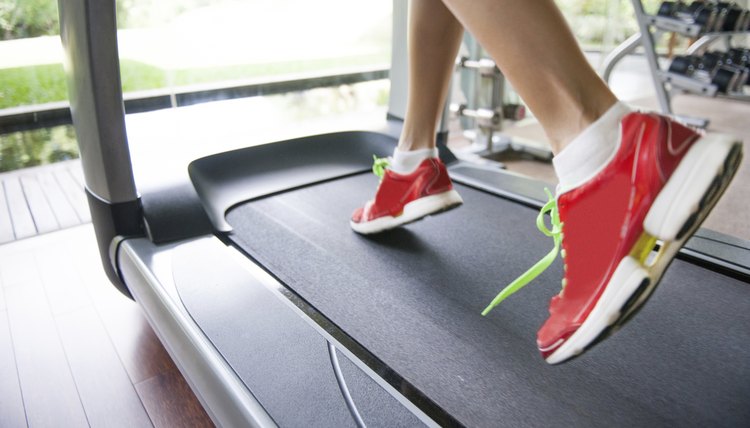 NordicTrack made the T5 ZI treadmill to be innovative through its use of iFit technology and pre-loaded workouts. However, as NordicTrack continued to make new models, the T5 ZI was discontinued and can no longer be purchased through NordicTrack or other traditional retailers. The T5 ZI can be bought used though, along with replacement parts. If you need to refer to the user's manual, you can still access it on the NordicTrack website.
Measurements and Weight
The NordicTrack T5 ZI treadmill weighs 180 pounds with a belt size of 20 inches by 55 inches. The belt folds upwards to allow for easier storage, but does not have a hydraulic assist feature. Thus, you must be able to lift around 70 pounds to lift the belt area up. The entire machine is approximately 73 inches long, 35 inches wide and 67.5 inches tall.
Motor and Belt
The belt has Adjustable FlexResponse cushioning. It can go up to a speed of 10 miles per hour and has an incline of up to 10 percent. The motor is a DurX 2.8 horsepower motor. While this is not the strongest motor on the market today, it is a significant amount of power. It can has a weight capacity of up to 325 pounds.
Fitness Features
The treadmill has a variety of fitness features, including pre-loaded workouts. There are eight calorie-burn workouts and eight timed workouts, as well as the iFit Workout Card Technology. iFit is designed by certified personal trainers and gives you eight weeks of personalized workouts to fit your goals. The T5 ZI has a music port for an iPod and a speaker system. It has an LED screen to track your progress.
Part Replacement
Since this treadmill model is no longer available for retail, it can be difficult to find replacement parts. If you go to the NordicTrack support online, you can find the user's manual and purchase some parts. You can also plug the model number in to eBay and buy used parts. The model number for the T5 ZI treadmill is NTL61009.1.
References
Writer Bio
Elizabeth Gray has been writing since the age of five, but professionally since the age of 21. Her current writing gigs include article writing for Studio Anya, and playwriting for the Manhattan Repertory Theatre.