The Difference Between Steel & Aluminum in Swimming Pools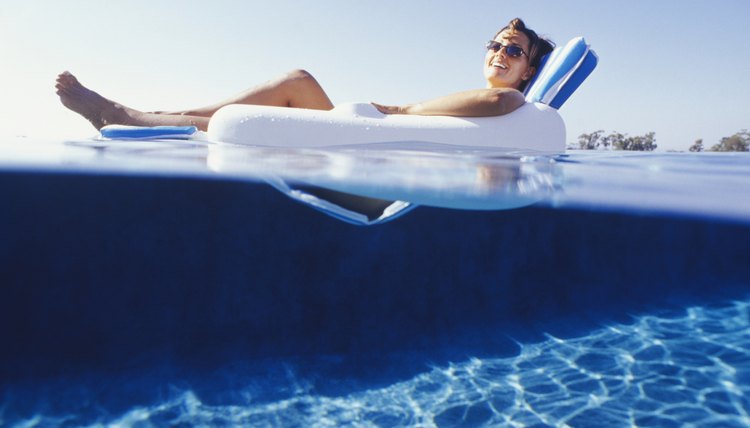 Above ground pools come in a variety of shapes, sizes and price ranges, making them a comparable alternative to inground pools. Above ground pools are constructed of many different types of materials, including fiberglass and resins; although most people end up choosing between aluminum and steel because of their lower price points.
Strength
The pool wall and supports have the task of containing an average of 10,000 gallons of water, as well as providing a frame for the pool liner to hang on. Steel is a heavy material and manufactured to form one continuous roll, while aluminum is constructed from many pieces that are then riveted together during installation. Aluminum pools have been noted to feel flimsy due to their assembly method and, on rare instances when the rivets are not secured properly, can collapse.
Weather Resistance
An above ground swimming pool is in constant contact with the elements. Aluminum pools were designed as a rust-free alternative to steel pools; however, aluminum does oxidize and weaken over time. As aluminum oxidizes it begins to become rough and pit, which may cause pinholes in your pool's liner. Pool professional's from Oridini's Pools and Spa admit all steel will eventually rust, and suggest that modern manufacturing methods include dipping and coating the steel in various layers to give them lifespans up to 20 years.
Price
Price ranks high on the list of reasons homeowners may choose to purchase an above ground pool over an inground pool. The price difference between selecting the former can mean a savings of $10,000 and up, and monetary benefits do not stop there. Deciding on a steel-walled above ground pool instead of an aluminum pool may save you from $500 to $800.
Aluminum Pool Benefits
Aluminum pools have become popular over the last 10 to 15 years because of their ability to handle inclement weather. When aluminum is exposed to air, it becomes covered with a tough, transparent layer of aluminum oxide that helps resists corrosion. Aluminum does not tarnish or rust and has an extremely high strength-to-weight ratio. It also becomes stronger and retains its toughness as it gets colder.
Steel Pool Benefits
Steel pools are two to three times cheaper than aluminum pools. Steel is naturally rigid and tough, providing the structural integrity needed to hold the thousands of gallons of water within a swimming pool. The steel for pools is made of a copper-steel alloy, which my last longer without pitting or rusting in comparison to an aluminum pool.
References
Resources
Writer Bio
A 2010 arrival to the world of professional writing, Ronaldo Dixon, an athlete since a young age, helped to form, train and maintain a nationally ranked WVU Club boxing team. Dixon holds a Bachelor of the Arts in business administration, communications and sociology from West Virginia University.