Endurance Swim Workouts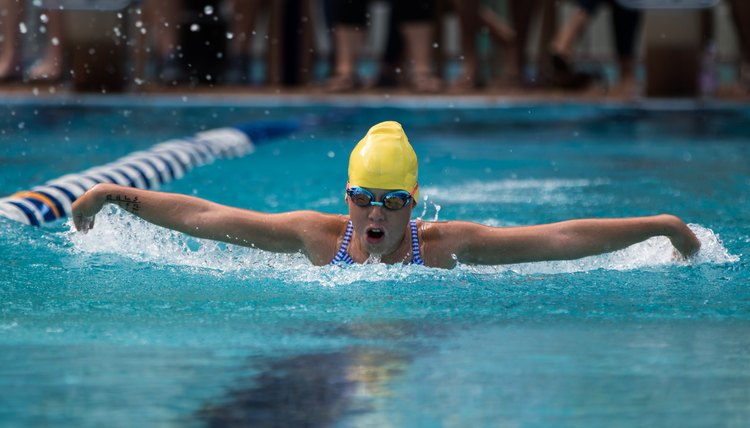 Endurance swimming tests your fitness and dedication. You need to keep your technique and effort up for long periods, along with your mental focus. Training for specific endurance swims, whether it be a long-distance triathlon or 10K open water event, requires you do workouts that build your fitness and technique in the water.
Necessities for Endurance
You rely on cardiovascular fitness and efficient lung function during long-distance or endurance swims. In response to increased demands, your heart beats faster and your blood circulation and pressure increases. Your lungs transfer inhaled oxygen to depleted blood returning via your venous system for redistribution to muscles and organs. During long swims, you rely on glycogen stores in your bloodstream and liver, as well as fat stored in adipose tissue in your body.
Your swimming muscles, namely your shoulders, back, core, and legs must also be developed and strong to work for swims that take an hour or more.
Workout Specifics
Targeted endurance swim workouts usually occur in a pool. Try to find pool that's 50 meters long, if possible, to minimize turning.
In endurance pool swimming, focus on efficient breathing and your distance per stroke. The longer you travel in the water, with each stroke you make, the less energy you use moving through it.
5,000-meter Pool Workout
Start with a warm-up that is moderate in pace to get your muscles ready and your heart and lungs working. Doing a kick set mixed into a freestyle warm-up also helps prepare your legs for a long swim. Try the following 1,000-meter warmup: 800 meters freestyle followed by 200 meters fast kicking.
Continue the workout with a main set consisting of a long "ladder:"
Do a set each of 100, 200, 300, 400 and 500 meters; rest approximate 30 seconds between sets.

Descend the ladder, doing 500, 400, 300, 200 and 100 meters.

Perform another 1,000 meters, alternating strokes on each 100 meters. Substitute free style or back stroke for the butterfly if you cannot swim that stroke.

3,000-meter Pool Workout
This workout keeps you occupied with multiple shorter sets. It's also set up as a ladder.
Warm up with 300 freestyle, 300 pull and 200 kick. Then do the following sets:
8x50 with 10 seconds rest between sets

5x100 with 15 seconds rest between sets

3x200 with 30 seconds rest between sets

1x400

Warm down with 300 meters of easy swimming; vary your stroke to avoid overusing your shoulder muscles.
Considerations
Open-water endurance swims require you to be ready for cold-water temperatures, choppy conditions and changing weather. You need adequate food to fuel your effort, preferably supplied by support teams on boats that accompany you on your swim depending on the length you're going.
When you are in open water, keep sighting your course by lifting your head out of the water when you take a breath to avoid veering off from the swim group or a race course. Alert fellow swimmers or support crew if you feel light-headed, develop a headache or feel exhausted.
References
Writer Bio
Barrett Barlowe is an award-winning writer and artist specializing in fitness, health, real estate, fine arts, and home and gardening. She is a former professional cook as well as a digital and traditional artist with many major film credits. Barlowe holds a Bachelor of Arts in English and French and a Master of Fine Arts in film animation.