Top States for Competitive Swimming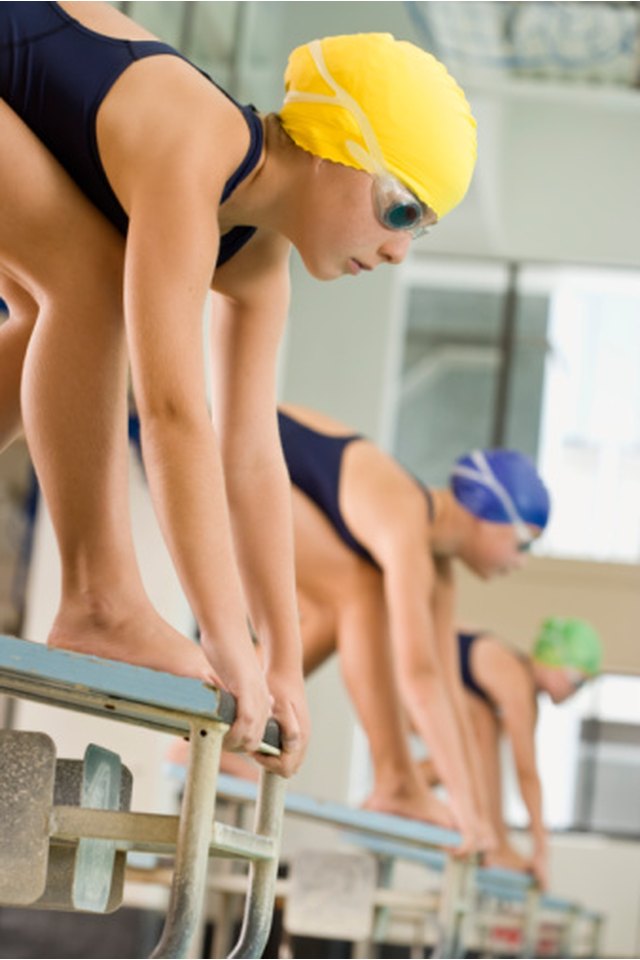 Because it does not require an outdoor venue, swimming can be practiced year round. Although it's classified as a Summer Olympics sport, swimming at the collegiate level occurs during the winter months. The best places in America to train provide opportunities for competitive growth as well as high-quality facilities and a track record for success.
California
California is home to the largest Local Swim Committee, or LSC, in the country. USA Swimming, the nation's governing body for the sport, charters LSCs to administer leagues and tournaments across the country. Southern California Swimming represents nearly 21,000 swimmers and 149 club programs. Olympians Lindsay Benko, Janet Evans, Jessica Hardy, Katinka Hosszu, Klete Keller, Jason Lezak and Aaron Peirsol are products of SCS clubs. Southern California also is home to two world-class swimming facilities. The McDonald's Olympic Swim Stadium at the University of Southern California was constructed for the 1984 Los Angeles Summer Olympics, and the Belmont Plaza Olympic Pool was used as a training site for swimmers at those games. California also is home to the Pacific Swimming LSC, a group of clubs in northern California and Nevada. Centered around the world-class facility at Stanford University in Palo Alto, Pacific Swimming's list of Olympians is impressive. Matt Biondi, Natalie Coughlin, Pablo Morales, Jenny Thompson and Dara Torres all got their start training at a Pacific Swimming club.
Colorado
Colorado earns a spot on the top training centers list as a result of one swimming pool in Colorado Springs. The U.S. Olympic Training Center is home to a 45,000-square-foot pool with long- and short-course lane configurations. The aquatics center is the official home of the national team. Colorado has produced Olympians Jessica Rodriguez and Lauren Stoeckle.
Texas
The Lone Star State is one of the leading areas in the country for training and competition. USA Swimming lists five LSCs statewide, and the University of Texas, Texas A&M University, Texas Christian University and Southern Methodist University regularly rank among the top 25 schools in the College Swimming Coaches Association of America polls. Texas has produced a number of Olympians and collegiate champions, including Dana Vollmer, Steve Lunquist, Ryan Berube, Paul Robinson, Ian Crocker and Neil Walker.
Pennsylvania
Pennsylvania's history of success in the pool is fairly recent, with its swimming Olympians coming from 2008: Alicia Aemisegger, Brendan Hansen and Katharine Riefenstahl. In 2011, two Conshohocken, Pennsylvania, siblings, Teresa and Fran Crippen, were members of the U.S. national team. Statewide training opportunities are numerous, with collegiate powers Penn State University and the University of Pittsburgh among nine colleges that sponsor Division I swimming.
Writer Bio
Jared Paventi is the communications director for a disease-related nonprofit in the Northeast. He holds a master's degree from Syracuse University's S.I. Newhouse School of Public Communication and a bachelor's degree from St. Bonaventure University. He also writes a food appreciation blog: Al Dente.