Fitness Jobs in the Army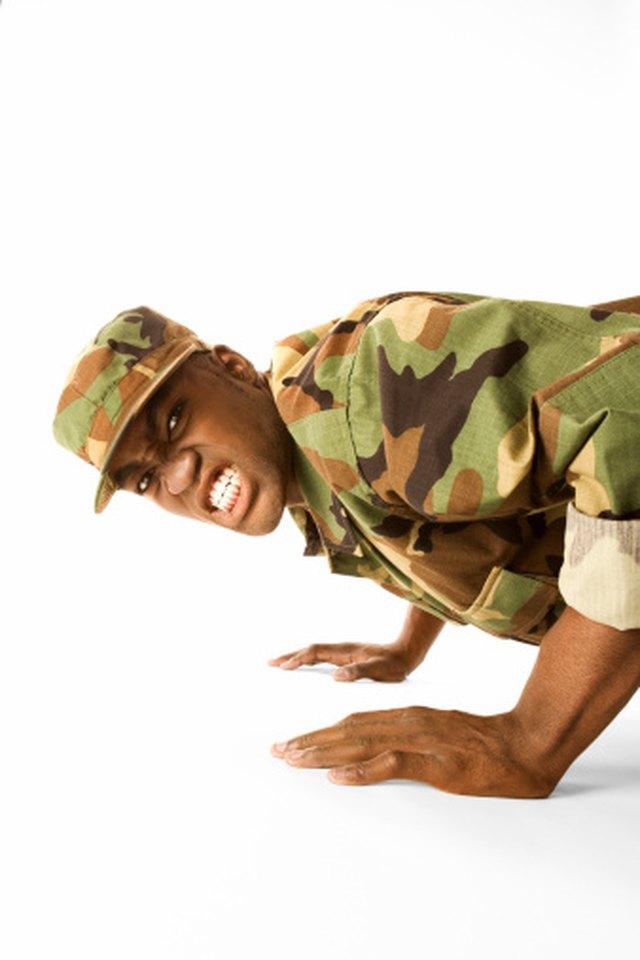 You have heard the Army motto, "There's strong, and then there's Army strong." The men and women of our all-volunteer Army live up to that motto. Personal fitness is not an option when it comes to being combat-ready. Your life and the lives of your unit depend on it. A fulfilling fitness career serving our nation's soldiers can be yours if you qualify.
Army Fitness Centers
The U.S. Army boasts some of the finest state-of-the art fitness facilities in the world, offering a wide variety of fitness options and activities. Sports playing fields, basketball courts, bowling alleys, climbing walls, cardiovascular equipment, weight rooms and Olympic swimming pools are all available on-post to soldiers and their families and to civilians who work for the Army. Group fitness classes ranging from Zumba to pilates and yoga are offered. Army fitness facilities are professionally staffed and jobs are abundant.
Jobs for Enlisted Personnel
The jobs offered in the fitness and recreation facilities of the U.S. armed forces are by and large civilian-held positions. However, the Army official website does list career paths that are health and fitness oriented, such as Preventative Medicine Officer, Dietitian, Occupational Therapist, Physical Therapist and other medical and dental careers. And of course there is the job of consummate personal trainer, the Army Drill Sergeant. Any of these career paths will lay a foundation for a career in fitness once you leave the Army.
Civilian Fitness Jobs
The Army runs its fitness centers like any civilian gym and hires educated and certified industry professionals to manage facilities, teach group exercise, and work as personal trainers. Positions requiring less education like manning the front desk, cleaning and maintenance are also available. The pay is competitive with the civilian market and is sometimes better. Full-time positions often include medical and vacation benefits.
Finding a Fitness Job with the Army
Many of the recreation-related jobs for the Army are listed with the FMWR, the Family and Morale, Welfare, and Recreation Command. You can search their website online, or contact your local MWR office. Another site that lists all types of jobs worldwide is the Civilian Personnel On-Line website, CPOL.Army.mil. The Army fitness centers also work with civilian companies like Washington D.C. based Fit2Be, who hire group exercise instructors to teach classes on-post and at other sites like the Pentagon.
Security and Other Considerations
If you plan to work for the Army as a civilian, be prepared to be scrutinized for security purposes. Criminal background checks are likely. Getting on-post sometimes means waiting in line, showing identification and vehicle registration, and maybe even having your car searched. You will have to allow extra time to pass through security and get to work on time. Once hired, working for the Army is rewarding and gratifying -- an opportunity to give back to those who give so much for us all.
References
Writer Bio
Michelle Matte is an accomplished fitness professional who holds certifications in personal training, pilates, yoga, group exercise and senior fitness. She has developed curricula for personal trainers and group exercise instructors for an international education provider. In her spare time, Matte writes fiction and blogs.