What Type of Wheel Is Used for a Trek 700 Bicycle?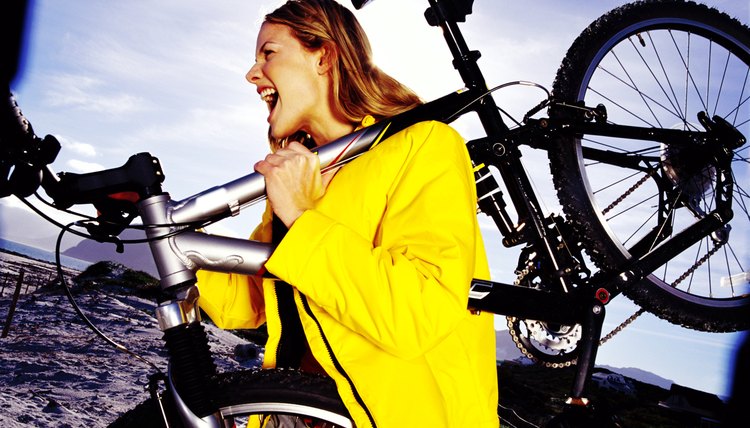 The Trek 700 bicycle is a recreational hybrid bike available in men's and women's models. Both use 700c wheels, the largest general-use wheel. The 700c refers to the diameter, in millimeters, of the tire used on the wheel, but depending on the width and depth of a particular tire, the diameter may be larger or smaller than 700 mm.
The Bontrager 550
The wheel that comes standard on a Trek 700 is a Bontrager 550 with aluminum alloy hubs and rims. The Bontrager 550 front and rear wheels have 36 spokes, which is the standard for modern bicycle wheel manufacturing. The Bontrager H4, measuring 35 mm across, is the stock tire on the Trek 700. It is the widest 700c tire commonly available, and is primarily designed for bicycle touring or recreational riding. The wider the tire, the better it absorbs the impact of road obstacles or bumps. The Bontrager H4 is also suitable for off-road riding, such as well-groomed dirt trails.
Gears
The rear wheel on the Trek 700 has a seven-speed Shimano cassette, with gear sizes ranging from 14 to 34 teeth. The smaller the number of teeth on a rear gear, the harder it is to pedal. If you need to replace the cassette due to broken gear teeth or other issues, get another seven-speed cassette. Cassettes with more or fewer speeds won't fit on the hub and will also necessitate your replacing the rear derailleur and gear shifter to ones that are compatible with the number of speeds on the cassette.
Availability
The Bontrager 550 and Bontrager H4 primarily appear on complete Trek bikes and some other brands and are not generally sold separately. If you need to replace your wheel or tire, you need to buy different models, unless you can find used replacement wheels or tires. However, well-stocked bike shops have a range of 700c wheels and tires that fit a Trek 700.
Finding a Replacement
The wheel and tire on a Trek 700 may be replaced by any other 700c wheel and tire. But the wheel and tire must be compatible. Wheels designed for 35c tires are likely too wide to accommodate tires that are skinnier. Narrower tires tend to be faster, but they don't handle well on rough roads. As a general rule, if you seek replacement tires, get ones that are wider than the rim when installed, but not so wide that they bulge above the rim when compressed against the ground.
References
Writer Bio
Erica Leigh has been writing and editing professionally since 2005, contributing to a technology and education nonprofit, renewable energy companies and various websites. Leigh holds bachelor's degrees in anthropology and linguistics from the University of Washington.