Can I Put Mountain Bike Components on a Road Bike Frame?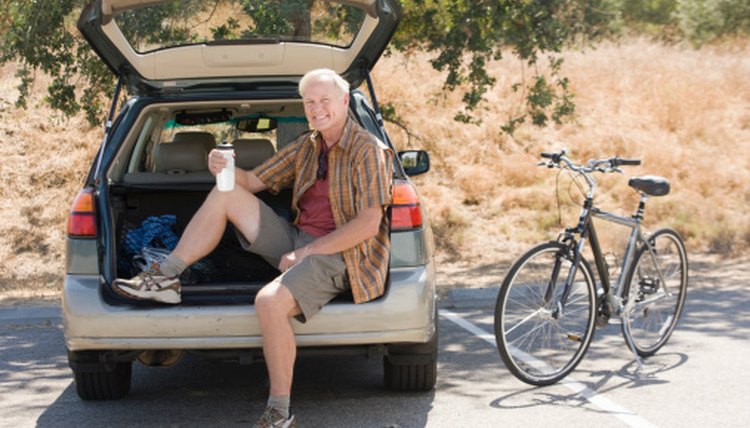 A mechanic considering putting mountain bike components on a road bike frame must account for component sizing standards, which can differ significantly, depending on the bike's country of origin, gear-shifting compatibility and frame sizing. For example, mountain bikes, especially aluminum frames, typically have larger frame tubes than road bikes for added strength in off-road conditions.
Wheels
The 26-inch wheels on most mountain bikes are not compatible with road bike frames. However, the introduction of 29-inch mountain bike wheels, which are the same diameter as the road bike's 700c wheels, means there is potential for interchangeability. Mountain bike rims are much wider to accommodate the wider tires of mountain bikes, so most road bikes' narrow frames won't work with wide mountain bike tires or wheels, but some frame designs may be compatible.
Handlebars/Levers
Most road bikes have larger diameter handlebars than mountain bikes. As a result, you can't install mountain bike handlebars without also changing the handlebar stem into which the handlebars clamp. As the stem of road bike handlebars is often narrower than the stem of mountain bike handlebars, this can pose a considerable problem. Generally, brake/shifter levers are not interchangeable across handlebar types, though certain models may lend themselves better to fitting on a range of handlebar sizes. Mountain bike levers do not usually work well on road bike handlebars due to design differences in the handlebars.
Gears
Mountain bike gears typically have a wider range of sizes than road bike gears, but the cassette containing the rear wheel's gears should be interchangeable with a road bike cassette of similar width. To move a mountain bike's derailleurs or chainrings to a road bike, the derailleurs, chainrings, cassette/freewheel and shifters on the road bike must be compatible. The shifters must have the same number of speeds as the derailleurs, and the derailleurs must be compatible the same number of speeds as the accompanying chainrings or cassette/freewheel. One difficult point is that many mountain bike front derailleurs have clamps too large for a road bike frame, but many road bike front derailleurs cannot handle three front chainrings.
Other Components
Road bike frames can't use many mountain bike brake assemblies, which often rely on cantilever attachments welded to the frame for operation. Bottom brackets may be interchangeable, but they also come in such a variety of sizes that finding a matching road bike frame could be difficult. Cranks and seats are likely to be interchangeable. Seat posts vary considerably in size and length and are difficult to change between bike types.
References
Writer Bio
Erica Leigh has been writing and editing professionally since 2005, contributing to a technology and education nonprofit, renewable energy companies and various websites. Leigh holds bachelor's degrees in anthropology and linguistics from the University of Washington.