Schwinn Varsity Bicycle Specifications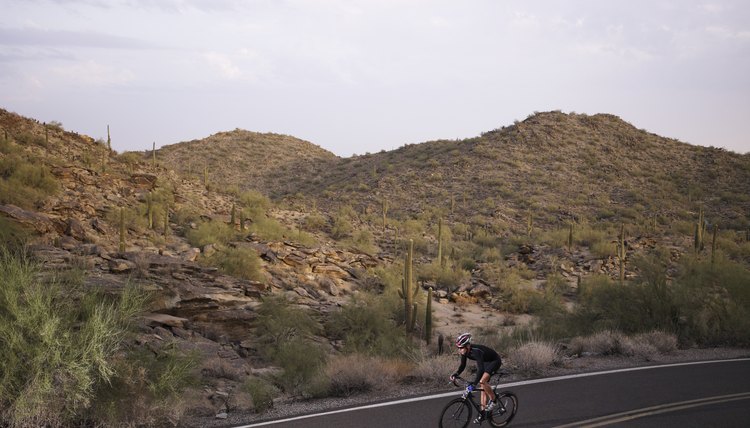 Between the 1960s and 1980s, the Schwinn Varsity dominated the adult bike market, though it quickly went out of style in the late 80s. Nowadays, there are two different choices when it comes to a Schwinn Varsity Bicycle -- the 700c Schwinn Varsity 1200 or the 700c Schwinn Varsity 1500. Prices can range from $200 to nearly $1000 depending on the vendor and model you choose. Both models are road bikes. According to Schwinn, the 1500 is geared toward long rides and hard-core commutes while the 1200 is best for high school or college students.
Frame
The frame of the 700c Schwinn Varsity 1200 is a 21-inch aluminum suspension frame with a rigid fork. If weight is a concern, the 1500 is slightly lighter with a aluminum and carbon fiber frame. The fork is a carbon fiber fork, which Schwinn claims gives the bike a more responsive ride, compared to the solid fork of the 1200 that they claim gives you a quick and agile ride. The Schwinn Varsity 1500 has drop bar handlebars while the 1200 has the flat-bar style.
Gears, Speeds and Brakes
If you are looking for a 21-speed bike, the 1200 version is the best choice as the 1500 only has 16 speeds. The 1200 has a Shimano EX-fire shifter while the 1500 has a Microshift shifter. According to the Schwinn descriptions, the 1200 has alloy linear pull brakes while the 1500 has Promax alloy caliper brakes.
Wheels, Seats and Pedals
Both the 700c Schwinn Varsity 1200 and 1500 have 700c wheels, about 27.56 inches. The 1500 model boasts lightweight, deep-dish aero wheels while the 1200 has standard factory wheels. Both models come with a padded seat and standard pedals.
Dimensions, Weight and Warranty
Beyond the riding specifications, it is important to see if a bike can fit in your car, shed, house or wherever else it may be stored. Both the 1200 and 1500 versions of the Schwinn Varsity bike are 70 inches in length, 25.5 inches wide and 43 inches tall. For shipping purposes, the 1200 is 35 pounds while the 1500 is only 31 pounds. Both models come with the Schwinn Limited Lifetime Warranty.
References
Writer Bio
Kelly MacGregor holds bachelor's degrees in news-editorial journalism and ecology/evolutionary biology from the University of Colorado at Boulder. In addition to writing for the "Colorado Engineer Magazine," the "Boulder Daily Camera" and EdNews Parent, MacGregor's work has been picked up by the "Colorado Daily," EdNews Colorado and the "Denver Post."