Rules of a 200-Meter Sprint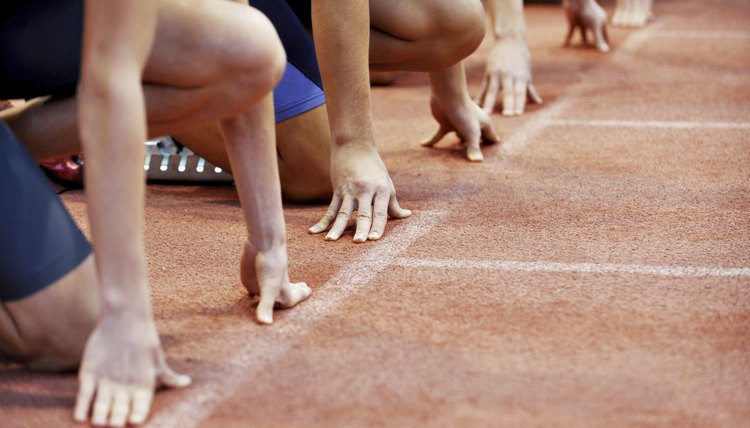 The 200 meter sprint is one of the shortest sprint races in the summer Olympic Games. The only shorter race is the 100 meter sprint. The 200 meter race is a great test of power and speed as you are forced to run around a curve and on a straight path. There are a few key rules for the 200 meter sprint in Olympic competition.
The Track
The 200 meter Olympic sprint is run on an oval-shaped track that is 400 meters in circumference. The track for the 200 meter sprint must be a material that allows for spiked running shoes, according to the IAAF rules. Also, a runner cannot run inside the inner-most lane of the track and must refrain from stepping on the inner-most line of the track that separates the track from the infield.
The Start
The rules require 200 meter sprinters to use starting blocks. Blocks are not allowed to touch the start line or any part of another runner's lane. If the runner false starts once in an Olympic 200 meter race, a race official will present him with a red card and he will be disqualified from the race, according to the IAAF.
Banned Substances
Testing positive for a substance banned by the IAAF will result in a disqualification from the race. Any achievement by the athlete during that race will be nullified. For example, if the athlete was to win the gold medal in the 200 meter sprint and set a world and Olympic record, all three achievements would be wiped out by the IAAF. Also, the athlete will be suspended from competition for a designated length of time, according to the IAAF.
Fun Facts
American sprinter Michael Johnson ran the 200 meters in 19:32 at the 1996 Summer Olympic Games in Atlanta, Georgia, breaking the world record he had set earlier in the year at the U.S. Olympic trials. The record stood for 12 years before Jamaican sprinter Usain Bolt broke it with a time of 19:30 at the summer Olympic Games in Beijing, China in 2008.
References
Writer Bio
Wade Harle began writing professionally in 2011 and holds a bachelor's degree in journalism from Iowa State University. His work on sports and other topics has been published on various websites.