List of Leslie Sansone Walk DVDs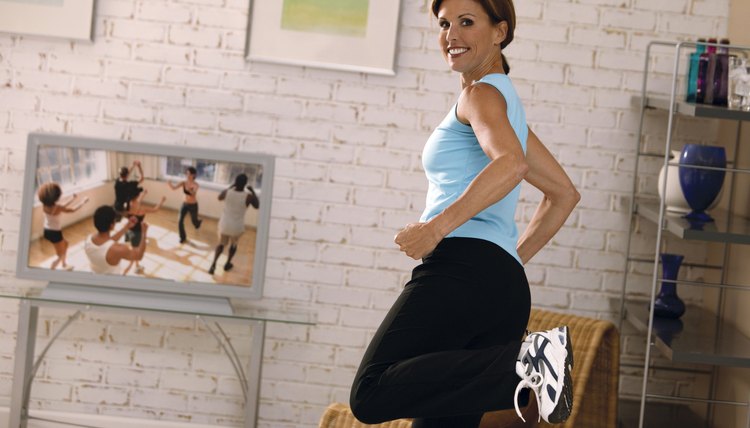 Leslie Sansone's Walk At Home series of in-home walking DVDs provide viewers with simple workout routines accessible to beginner and advanced users alike. They range from 1 to 4 miles long. As of November 2013 Sansone had 80 walking DVDs available; these were the four best-sellers that month according to Amazon.com
Leslie Sansone: Walk to the HITS Radio Remixes
Sansone incorporates High Intensity Interval Training, or HIIT, in this 3-mile walking workout. Short bursts of HIIT sessions alternate with longer sessions of lower-intensity movements, all set to remixes of various hit songs. The workout is about 45 minutes long.
Leslie Sansone: Walk It Off in 30 Days
"Walk It Off in 30 Days" is different from Sansone's usual workouts. In addition to the walk, it has a separate strength workout. The premise is you work out for 30 minutes for 30 straight days. The walking workouts are on Monday, Wednesday and Friday, while the strength training takes place on Tuesday, Thursday and Saturday. Sunday is a rest day.
Leslie Sansone: Belly Blasting Walk
The "Belly Blasting Walk" workout begins with two fast-paced miles that include twists and punches to engage your core and calorie-burning "boosts" such as jogging in place. The 30-minute walk is followed by two 10-minute core-strengthening sessions, one that targets your abdominals and obliques and one that targets your back and glutes.
Leslie Sansone: Walk Away the Pounds Ultimate Collection
A collection of pre-released walking workouts, "Ultimate Collection" has four workout options: "1 Mile Get Up & Get Started," which lasts 18 minutes; "2 Mile Brisk Walk," (30 minutes); "3 Mile Advanced Walk," (51 minutes) and a 60-minute "4 Mile Super Challenge." The package includes a resistance band for the upper-body toning segments within the walking workouts.
References
Writer Bio
Shawna Van Trease has been a freelance copy editor and writer since 2007. She has written extensively for private clients, including market research and website development firms. Van Trease holds a Master of Arts in social work from the University of Chicago.