Rollerblades Vs. K2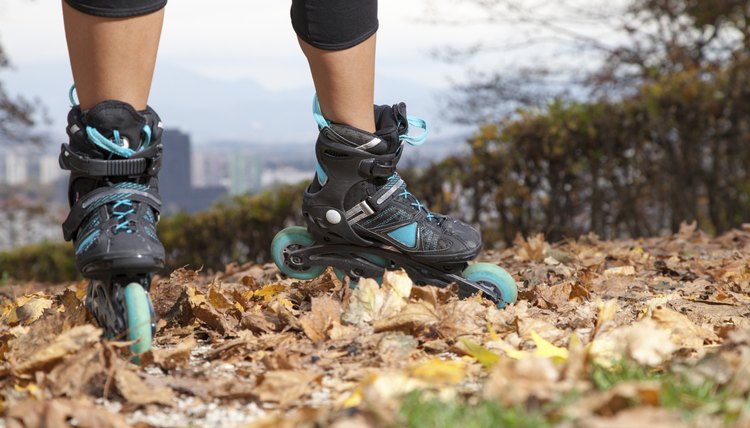 Inline skates have existed in Europe since the 1700s, when John Joseph Merlin was documented as attending a masquerade ball and, being unable to stop himself, ran into a mirror, smashing it to bits. Since that time, roller skate designs came and went, until 1979 when ice hockey players Scott and Brennan Olsen modified used inline skates, improving the stability with bigger wheels and adding a heel brake. That modified skate evolved into the modern inline skate.
Rollerblade History
Purchased from Olsen in 1984, the Rollerblade brand was aggressively marketed to the public, becoming more than just the ice hockey players's summer training tool. Rollerblade inline skates began showing up in sporting goods stores in major cities across the country. Rollerblade was the first inline skate company to introduce heel brakes, polyurethane wheels, metal frames, aggressive skates and ventilated outer shells. Now based in West Lebanon, New Hampshire, Rollerblade, Inc. continues to provide innovative new products to the inline skate enthusiast.
K2 Inline Skate History
K2 began as a sporting goods manufacturer in the 1960s. Back then, K2 produced snow skis, and it wasn't until 1993 that K2 introduced its first inline skate called the Exotech. This new skate introduced soft boot technology to the inline skating market. The company continues to produce a variety of winter and summer sport products, including skis, snowboards and inline skates. Based in Seattle, Washington, with offices in Canada, Germany, Norway and Japan, K2 is now one of the top three inline skate manufacturers in the world, according to HistoryLink.org.
Types of Inline Skates
Both Rollerblade and K2 produce the same types of skates, which include recreational/fitness, aggressive skates and speed skates. Recreational/fitness skates are the most popular type of inline skate on the market, and they are characterized by having a comfortable and stable boot, durable chassis and wheels built for outdoor use. Speed skates feature larger wheels and smaller boots made to fit tightly around your feet. Aggressive skates are built for doing tricks, grinds and rail slides on the streets or indoor courses.
Price Comparison
Since both companies are in direct competition with each other, the price comparison between similar types of inline skates is generally almost identical. The primary reason for price differences is because of features used in the skate. Based on 2013 prices, both K2 and Rollerblade fitness/recreational skates vary from just under $100 up to $300 for a top-of-the-line skate. Aggressive skates start at $169 and can run over $300 for a custom setup. Speed skates are more expensive and typically run $325 or higher.
References
Writer Bio
Joseph Eitel has written for a variety of respected online publications since 2006 including the Developer Shed Network and Huddle.net. He has dedicated his life to researching and writing about diet, nutrition and exercise. Eitel's health blog, PromoteHealth.info, has become an authority in the healthy-living niche. He graduated with honors from Kellogg Community College in 2010 with an Associate of Applied Science.