Dynalite Golf Vs. Dynamic Gold Shaft Differences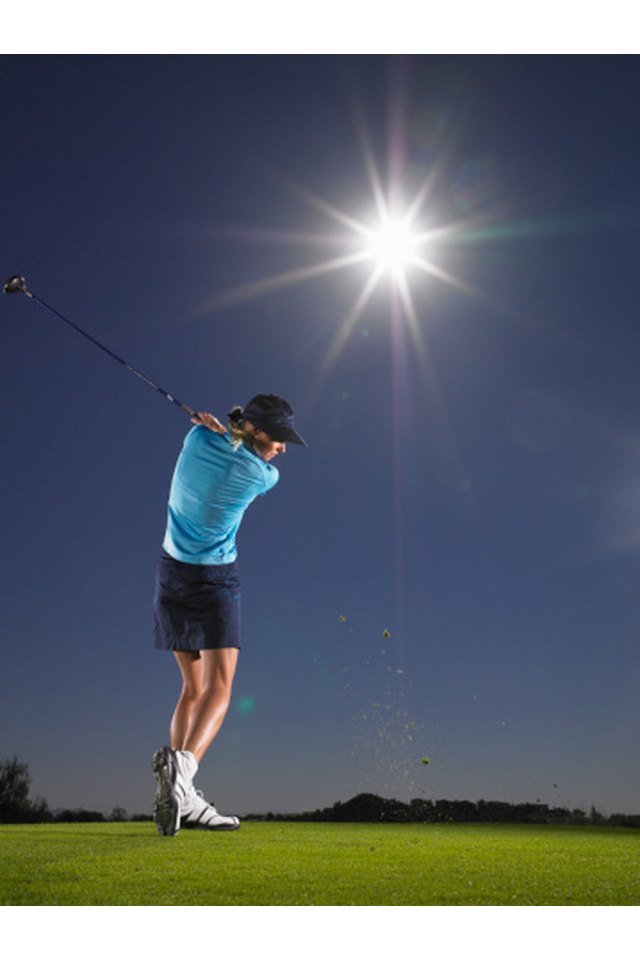 True Temper holds the title of the most-used shaft on the the PGA Tour as of January 2011, and produces several varieties of steel golf shafts. Its classic Dynamic Gold is designed to produce a flat, penetrating ball-flight. The Dynalite shaft was produced as a successor to the Dynamic Gold shaft, and is characterized by lighter weight and higher ball flights than the original, according to the True Temper website.
Models
Both the Dynalite and Dynamic Gold shafts come in several models. Dynalite features three designs, including the SL, XP and 100 versions. Dynalite's SL version is the standard model, while the XP boasts extra trajectory and the 100 is extremely light weight. The Dynamic Gold shaft is available in four models, including the classic Dynamic Gold, SL, TI and Spinner. Dynamic Gold models differ in their weights and diameters.
Weight
True Temper's Dynalite and Dynamic Gold shafts differ in weight depending on the model, but the Dynalite line is generally lighter than its predecessor. Dynamic Gold shafts range in weight from 106 g in the SL model to 132 g in the Spinner. Dynalite shafts span from 102 g in the SL to 122 g in the 100 model. Within each line, shafts designed for woods are generally lighter than those designed for irons and wedges.
Flexibility
Both shafts are available in a range of flexes. The correct shaft flexibility is based on individual swing speed, with slower-swinging players requiring more flexible shafts, reports GolfSpyder.com. Both Dynalite and Dynamic Gold shafts can be purchased in regular, stiff and extra stiff flexes. Stiffer shafts are often preferred by more advanced players because of their increased accuracy.
Diameter
A shaft's diameter influences the amount the clubhead twists during the swing, according to PurelyGolf.com. Dynalite and Dynamic Gold shafts come in several shaft diameters. Dynalite's tip diameters vary from .355 to .370 inches at the tip, and .580 to .600 inches at the butt. Dynamic Gold shafts range from .350 to .370 inches at the tip, and .600 to .610 inches at the butt.
Additional Specifications
All True Temper shafts come in lengths of 37 to 46 inches, but can be cut down to fit your height. Dynalite and Dynamic Gold shafts come in either parallel tip or tapered versions. Tapered shafts narrow considerably toward the tip, while parallel shafts remain fairly wide. Dynamic Gold shafts generally have higher kick-points, or the point on the shaft that bends the most, resulting in lower ball flights than the Dynalite line.
Resources
Writer Bio
Graham Ulmer began writing professionally in 2006 and has been published in the "Military Medicine" journal. He is a certified strength-and-conditioning specialist with the National Strength and Conditioning Association. Ulmer holds a Master of Science in exercise science from the University of Idaho and a Bachelor of Science in psychology from Washington State University.