The Best Low Kick Golf Shafts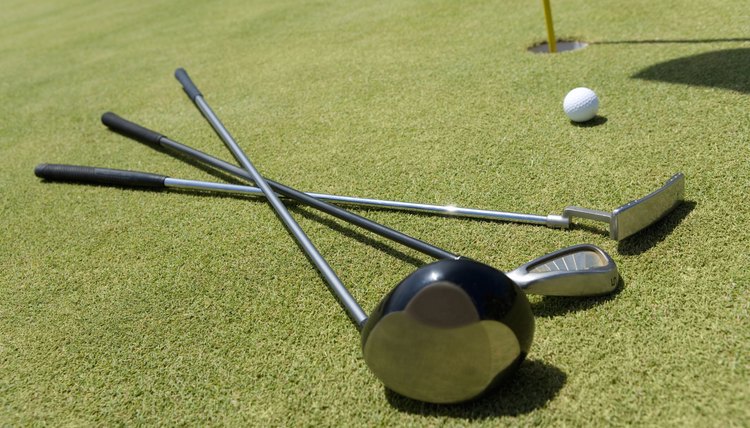 Low kick shafts are designed to launch the ball higher at impact. This is helpful to many weekend golfers who have average swing speeds and want to gain carry distance on their drives. While stronger and more skilled players often prefer a shaft that lowers their trajectory, many can gain yardage from the tee by creating a higher ball flight. Though many club heads have a low center of gravity to encourage height, most shaft producers provide mid to low kick shaft options to help increase your launch angle.
Aldila
The Aldila NVS range of shafts encourage a high ball flight. Aldila shafts generally provide flatter ball flights, but the more responsive tip in the NVS helps to create a higher launch. The lightweight NVS 55 shaft, in particular, is suited to those with more moderate swing speeds. The shaft weighs less than 60 g, which helps you increase your swing speed without sacrificing control. The increase in swing speed helps increase the height on your drives. Combined with the higher launch provided by the NVS shaft, you should see your carry distance off the tee improve.
Mitsubishi Rayon
The original Diamana series from Mistubishi Rayon includes the Redboard shaft, designed for players looking for higher launch. The "low torque/active tip" reduces twisting at impact while providing a high launch angle. The Redboard 63 weighs just over 60 g, while the Redboard 73 weighs just over 70 g. According to Mitsibushi Rayon, the Redboard maximizes launch conditions without sacrificing control. Mitsubishi Rayon's Diamana 'ilima shaft has very similar characteristics to the Redboard, and is another option if you're looking for a stable high launch shaft.
Matrix
The Matrix Ozik X-Con series of shafts are designed to provide high launch conditions with low spin. These characteristics help to create the ideal "rainbow" flight which maximizes carry distance without sacrificing accuracy. The low spin rate also helps you remain in control when playing in the wind. The X-Con 4 and 5 shafts weigh under 60 g, and are ideal if you have an average swing speed. Stronger players in particular should consider the X-Con 6 and X-Con 7. These shafts are heavier and have much lower torque, so they are more stable and more controllable.
UST
UST offers the Proforce AXIVCore Tour Black for those looking for a higher trajectory and greater carry distance. UST uses a "true weave, 4-axis material" in the butt of the club in order to promote stability. The technology also reduces "club heft" which helps to increase clubhead speed. The shaft offers high a high launch angle with low spin rates for optimum ball flights. It is available in a range of weights, ranging from 68 to 86 g, so it can be beneficial to a variety of players of differing ability levels.
Writer Bio
Based in Alicante, Spain, Jordan Gibb began writing professionally in 2010, and his work appears on LIVESTRONG.COM. He is a professional golfer who has worked with experts in fitness and in all areas of golf. Gibb is a graduate of the University of North Florida where he gained a Bachelor of Arts in English while competing for the men's golf team.