High School Soccer Shinguard Regulations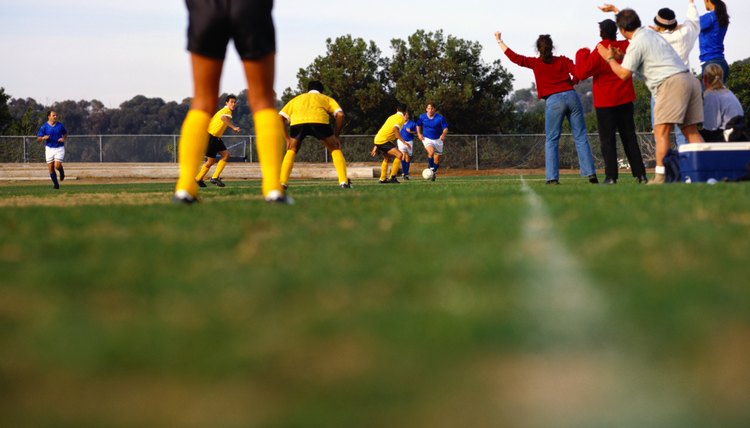 The shinguard is standard equipment at all levels of soccer, which is used to protect the shins from bruising and other injuries. High school soccer shinguard regulations are set by the National Federation of High School Associations (NFHS). Since 2008, the NFHS has required all high school soccer players to wear shinguards approved by the National Operating Committee on Standards for Athletic Equipment (NOCSAE).
NOCSAE Shinguard Standards
Started in 1969, NOCSAE includes representatives from various groups, such as equipment manufacturers and athletic organizations, interested in improving athletic equipment and setting equipment standards, with a goal of reducing injuries. NOCSAE publishes performance specifications, test standards and laboratory certification guides for soccer shinguards. All shinguards meeting NOCSAE standards must have a label permanently affixed on the top one-third of the shinguard, visible on the outside for easy inspection by a referee. The label must state the shinguard size and height in inches for the tallest user for the shinguard.
NFHS Requirements
The NFHS provides high schools in all 50 states and the District of Columbia with standards for competition in 16 sports, including soccer. NFHS only sanctions those high school athletic competitions that comply with NFHS standards and rules, which for soccer includes using shinguards adhering to NOCSAE standards. Starting the fall of 2012, shinguards must bear the permanent NOCSAE label on the outside with the height range information for the intended user. Until that time, it is acceptable to have the seal on an inside tag or embossed on the shinguard.
Equipment Inspections
The referees at an NFHS-sanctioned soccer game are responsible for inspection of player equipment before and during the game. In addition to shinguards meeting NOCSAE specifications, the size of the shinguards must be adequate for the player's height. Shinguards cannot be more than two inches above a player's ankle and are to be worn under the player's stockings.
Penalties
If a referee notices a player's shinguards as being undersized for the player's height, even if it is after the game has started, the referee must address the equipment violation. For a first offense, the referee is to send the player off the field to correct the violation. The referee must also issue a caution to the player's coach. For a second offense, the referee must caution the player.
Writer Bio
Joe Stone is a freelance writer in California who has been writing professionally since 2005. His articles have been published on LIVESTRONG.COM, SFgate.com and Chron.com. He also has experience in background investigations and spent almost two decades in legal practice. Stone received his law degree from Southwestern University School of Law and a Bachelor of Arts in philosophy from California State University, Los Angeles.