What does fact checked mean?
At SportsRec, we strive to deliver objective content that is accurate and up-to-date. Our team periodically reviews articles in order to ensure content quality. The sources cited below consist of evidence from peer-reviewed journals, prominent medical organizations, academic associations, and government data.
The information contained on this site is for informational purposes only, and should not be used as a substitute for the advice of a professional health care provider. Please check with the appropriate physician regarding health questions and concerns. Although we strive to deliver accurate and up-to-date information, no guarantee to that effect is made.
Mini Trampoline Exercises & Ankle Ruptures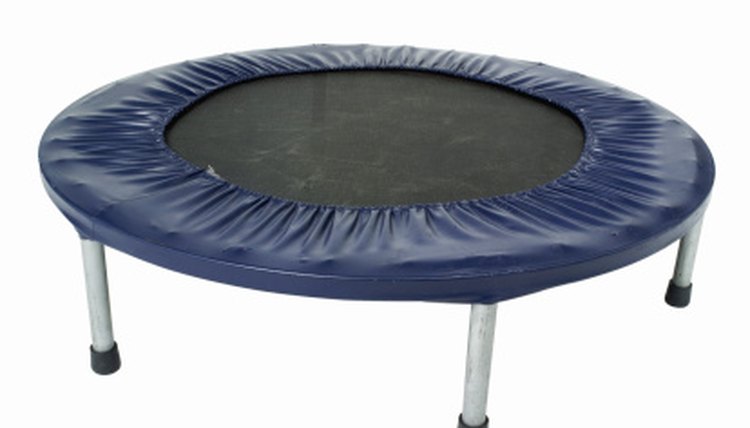 When you hear the words "mini trampolines" and "ankle ruptures" together, you might quickly assume that the trampoline caused a tendon in the ankle to tear. And although this is occasionally true, you would probably be surprised to hear that these bouncing trampolines are actually used to treat ankle injuries, including sprain, tears and ruptures. In fact, mini trampoline exercises are often used in ankle rehabilitation programs.
Identifying the Problem
Within the ankle joint, multiple ligaments span across the joint to attach the bones of the foot and ankle together. Three large ligaments run along the outside of the ankle, while several smaller ligaments run along the inside of the joint. In addition to the ligaments, several tendons also run through the joint, attaching the muscles to the bones. When a tendon or ligament ruptures, such as the Achilles tendon, it completely tears into two parts and can no longer stabilize or move the ankle joint. Symptoms of an ankle rupture include intense pain and swelling, often accompanied by bruising and warm skin.
Using Trampoline Exercises
Once a torn tendon or ligament has been surgically corrected and begins to heal, rehabilitation can take place. Oftentimes, a mini trampoline is used to rehabilitate an injured ankle. When the ankle is injured, the nerve cells in the area become damaged. Balancing on a trampoline allows you to slowly retrain the nerve pathways in your ankle to recognize the joint's position. Once the damaged nerves learn to sense the body's position, they can readjust the ankle as necessary for balance and stability.
Rehabilitating With Ease
One of the most common mini trampoline exercises for ankle rehabilitation involves the simple leg balance. For this exercise, simply balance on the injured leg for as long as possible. Once you can balance successfully for two minutes, make the exercise more difficult by tossing a ball up in the air and catching it while balancing. As rehabilitation progresses, additional mini trampoline exercises involve running in place, jumping on both legs and then carefully jumping on just the injured ankle.
Working On Safety
Although mini trampolines can provide an effective rehabilitation from ankle injures, they can also be dangerous when used improperly. In fact, attempting to use a trampoline too soon after an injury could result in a second injury. In severe cases, a consecutive injury may result in permanent damage to the ankle bones, muscles, tendons, ligaments or nerve cells. To ensure safety, mini trampoline rehabilitation exercises should only be performed under the supervision of a physician or physical therapist. Although some discomfort is expected after an injury, never push your ankle to the point of pain.
References
Writer Bio
Krista Sheehan is a registered nurse and professional writer. She works in a neonatal intensive care unit (NICU) and her previous nursing experience includes geriatrics, pulmonary disorders and home health care. Her professional writing works focus mainly on the subjects of physical health, fitness, nutrition and positive lifestyle changes.