Basketball Shoe Technology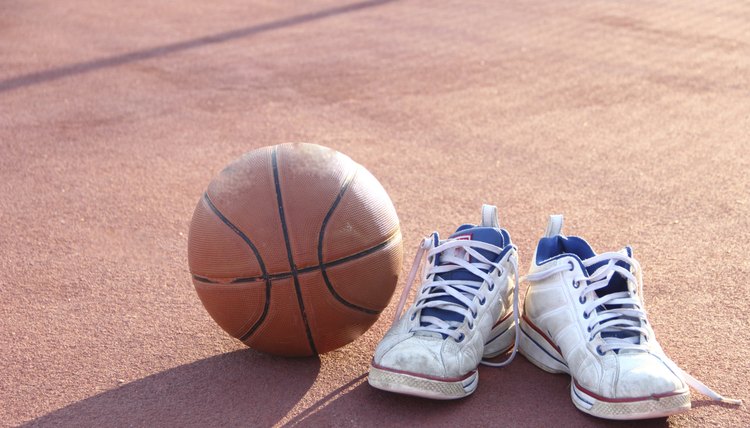 Technology might not be the first thing you consider when looking at basketball shoes, but it plays an essential role in injury prevention and performance enhancement. Instead of looking at the players who endorse your favorite shoes, consider the technology of the shoes themselves when you purchase your next pair.
Purpose
Basketball shoes help prevent injuries, in part, by providing adequate ankle support. High-top sneakers offer the best ankle support; these shoes should also lace up to the top to help provide a snug fit. For added protection, the website Kids Health suggests shoes with sturdy, non-skid soles.
Advancements in Technology
Technology has changed the look and fit of the basketball shoe industry. Shoe makers such as Nike have developed lighter, yet stronger shoes that provide support and breathability. The Nike Zoom Hyperfuse basketball shoe, for example, uses a blend of synthetic leather, mesh and TPU film to keep your feet cool. The shoe's Hyperfuse technology offers a seamless fit due to minimal stitching.
Results
Basketball shoes have evolved from the early Converse models -- heavy, one-colored, canvas high-tops -- to lightweight, synthetic sneakers in a variety of styles. Shoe-cushioning technology and durability improvements allowed big companies to sell their shoes at higher prices. Endorsements from NBA stars have pushed shoe prices even higher. The result is a competitive industry where new technology is highly valued.
Beyond Technology
Despite technological advancements, basketball shoes still wear out eventually. As shoes become worn, the material stretches, placing the ankle and foot at risk for injury. The soles of the shoe may also deform or compress, putting more stress on bones and joints when landing. For this reason, Michael Lowe, team podiatrist of the NBA's Utah Jazz, recommends that basketball shoes be changed once per month during the season. The American Academy of Podiatric Sports Medicine reports that many NBA players replace their basketball shoes every seven to 10 days.
Style
Basketball shoe styles frequently change due to improvements in materials, forcing shoemakers to be innovative designers. As a result, some shoes contain side zippers, Velcro straps, removable supportive sides or shiny designs. You may also have the option to design your own shoe.
References
Writer Bio
Jessica DeLisa graduated from Drexel University in 2006 with a bachelor's degree in communication. To explore her interest in fitness she became a certified personal trainer in 2007. She has been writing since 2009, including for the publication she started, "Fit In NJ Magazine."