TV Exercise Programs for Seniors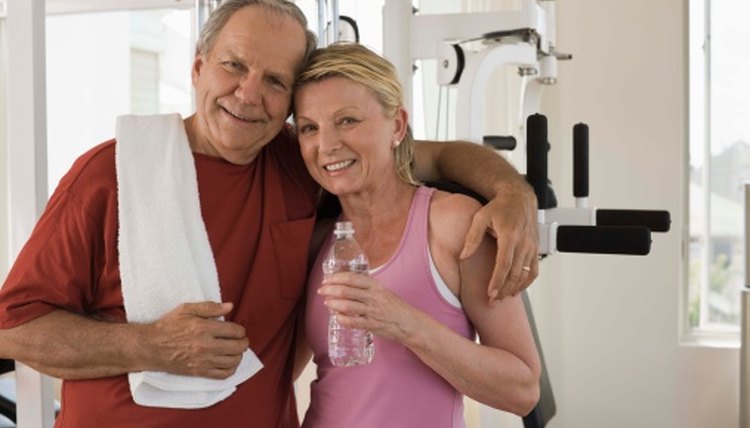 Seniors may believe that becoming inactive as they age is part of aging or even a perk of getting older. But not exercising poses a significant health risk. Exercising with TV programs at home eliminates the need for gym memberships, a huge plus if you're on a budget, and it also means no transportation complications.
Benefits of Exercise for Seniors
Exercising at home along with a TV program is convenient and makes it easier for seniors who don't drive or who have a hard time getting around to get in shape. People lose muscle, flexibility and endurance as they age, but exercising with TV programs for strength training, stretching and aerobics reverses this process. Exercise is also good for strong bones, it aides sleep and it combats depression, all important benefits for seniors.
Sit and Be Fit
"Sit and Be Fit" is an exercise TV series recognized by the National Council on Aging. All workouts are performed with a chair so almost anyone can participate. Some exercises are actually done standing but use the chair for balance. Mary Ann Wilson, RN, designs the workouts, along with a team of exercise specialists, doctors and physical therapists. "Sit and Be Fit" shows play on PBS. Examples of current and future programs from "Sit and Be Fit" include "Neuro Rehab Workout," "COPD Workout," "Prevent DVT Workout," "Brain Fitness Workout" and "Boomer Workout." COPD stands for chronic obstructive pulmonary disease. This workout is beneficial for people with chronic breathing problems. The "Neuro Rehab Workout" is designed to help people with neurological issues related to conditions such as Parkinson's disease, multiple sclerosis, a stroke or brain injury.
Exercise TV
Seniors do not have to limit themselves to workouts labeled "senior fitness." Every senior is different, and what you are capable of is likely different than what other seniors you know can do. Beginner level workouts are still a good place to start. "Exercise TV" has dozens of workouts available through On Demand. And the best part is, you can freeze the workout if you need to rest longer or take a break. Workouts include stretching, yoga, Pilates, walking and strength training. There are even mini workouts for you to try if you are just getting started. As always, check with your doctor to ensure any workouts you try are safe for you.
Considerations
Although exercise is generally beneficial, if you do not know what you are doing you can get hurt. Strength training is particularly dangerous because if your body is not in the correct alignment then too much stress is going to be placed on the wrong area. Not only can this cause and injury, it also might not work the right muscle group. With one-on-one personal training, a fitness professional can correct any mistakes in exercise form. Even in a group senior exercise class, you can ask the instructor for help. When you exercise at home along with a TV program, you don't have any trainer watching out for you. Stop immediately if something hurts, and consider working with a professional to teach you basic exercises before following along with a TV program.
Writer Bio
Sarka-Jonae Miller has been a freelance writer and editor since 2003. She was a personal trainer for four years with certifications from AFAA and NASM. Miller also worked at 24 Hour Fitness, LA Fitness and as a mobile trainer. Her career in the fitness industry begin in 2000 as a martial arts, yoga and group exercise instructor. She graduated cum laude from Syracuse University.