How to Make Ski Boots Comfortable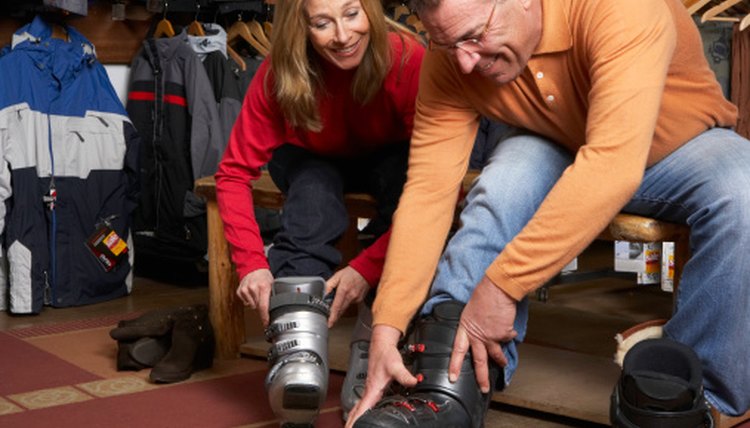 Ski boots are more than just a part of your attire -- they are equipment that greatly influence your performance when skiing. Ski boots must be fitted to your feet and the skis you are using to improve the transfer of energy between your body and your skis. Comfort is also an important factor with ski boots -- most beginner and many intermediate-level boots cater to comfort more than performance to help skiers adjust to the feel of the boots and get used to the pressure points created by these boots. You can do several things to control the comfort level of your ski boots.
Place a second layer of insulating liner in your ski boots. This is intended to keep your feet warm when skiing, but the thickness of the pads can alleviate or reduce the pressure placed on your feet in certain areas, lowering your risk of developing blisters or other skin damage from the boots. These liners will reduce the space for your foot to move, which can be good if the boot is slightly loose. If you are already feeling cramped in your boots, though, a liner may be ineffective.
Place custom insoles into the boot if you are experiencing foot pain due to improper or poor foot support. This will improve the fit of the boot to your foot, and it should reduce the stress placed on your feet when skiing. You can get insoles that cater to specific foot irregularities you may suffer from, or you can get a custom-fitted insole contoured to your foot.
Adjust or replace the boot cuff that goes around your calf. This is designed to support your ankles and reduce sprains and strains, and the cuff also helps trap heat in your boot and keep snow out. Boot cuffs tend to be snug, but they can also sit awkwardly on your calf and rub the skin raw -- particularly if you buy boots with standard cuffs. You can loosen or tighten the cuff as needed, or you might want to buy a new ski boot cuff that is custom-fitted to your calf -- this will eliminate any pressure points causing you pain.
Wear ski socks. Other socks won't provide the warmth and comfort that ski socks provide -- these socks are insulated and much taller than other types of socks, preventing cold air from getting to your skin around and above the ankle.
References
Writer Bio
Jonathan Croswell has spent more than five years writing and editing for a number of newspapers and online publications, including the "Omaha World-Herald" and "New York Newsday." Croswell received a Bachelor of Arts degree in English from the University of Nebraska and is currently pursuing a Master's of Health and Exercise Science at Portland State University.