How to Be the Best Zumba Instructor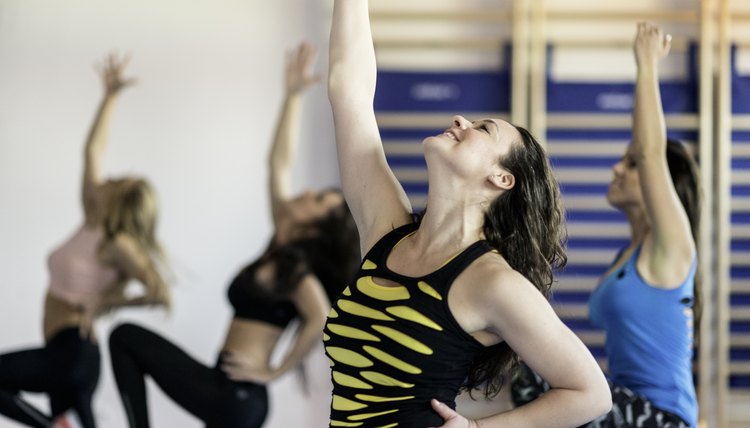 Zumba is an infectious fitness dance class that combines Latin music and dance steps. To take advantage of the popularity and become a Zumba instructor, you must attend a Zumba Basic or Zumba Gold instructor training and earn a certification. A background in dancing or fitness is recommended but not necessary.
Once certified, you may begin teaching classes, but it takes more than a certification to make the best instructor. You must be able to feed the party atmosphere while delivering effective, but accessible, dance moves to your members.
Prepare Yourself Physically
Teaching takes more endurance than participating in a class. Build your endurance by doing Zumba and other aerobic and strengthening exercises. You will need to have a high fitness level to be able to perform the choreography while helping your students.
Keep music and choreography fresh. Learn the new routines sent to you by the Zumba Instructor Network each month. During classes, verbally instruct your students in the new steps. Attend other instructors' classes and Zumba jam sessions to stay on top of new moves and get innovative ideas.
Distinguish Yourself
Find a niche to set yourself apart from other instructors. Get additional certifications like Zumba Gold, which enables you to make modifications for low-impact routines, or ZumbAtomic, which allows you to teach children. Or try offering high-demand time slots like early morning or late evening.
Connect With Your Students
If you show your class that you're having fun, they'll open up and have fun too. Teach to your audience. If your class is mostly conservative, keep the bootie shaking to a minimum. Offer modifications for all fitness levels and never ask your students to do something you are not comfortable doing yourself.
Show true interest in their progress. Invite the most outgoing members up on stage with you as you teach. Respond to requests for specific songs.
Cover the Logistics
You can bring the fun to class, but if you don't cover your logistical basics, you may risk your teaching career. Obtain private instructor insurance to protect yourself in case someone gets hurt in your class. Contact your insurance company or fitness facility to discuss options. You can also connect with fitness associations like the Aerobics and Fitness Association of America or the American Council on Exercise to purchase affordable coverage.
Acquire a license to play music publicly. Fitness facilities may already have a license, but a personal one may also be purchased. Contact a music licensing business such as Broadcast Music, Inc., or the American Society of Composers, Authors and Publishers or to obtain a license.
Have your students sign a waiver saying they do not hold you accountable for any injuries. This can be accomplished with a class sign-in sheet.
Be honest about what you don't know. Your Zumba instructor certification qualifies you to teach Zumba, not design a weight-lifting program, prescribe a diet or treat an injury. Send people to other professionals who can help your students.
Zumba is a registered trademark. You may not use the Zumba name or teach a Zumba class without the proper certification.
References
Resources
Tips
If you show your class that you are having fun, they will open up and have fun too.
Warnings
Zumba is a registered trademark. You may not use the Zumba name or teach a Zumba class without the proper certification.
Writer Bio
A certified personal trainer, Christie Morton has been writing health and fitness articles since 2004. Her work has appeared in "Cincinnati City Beat" newspaper, "Employee Services Management Magazine" and numerous online publications on topics including diet, nutrition, fitness and spirituality. Morton holds a Bachelor of Arts in communication arts from the College of Mount St. Joseph.