Exercises Programs for the Physically & Mentally Challenged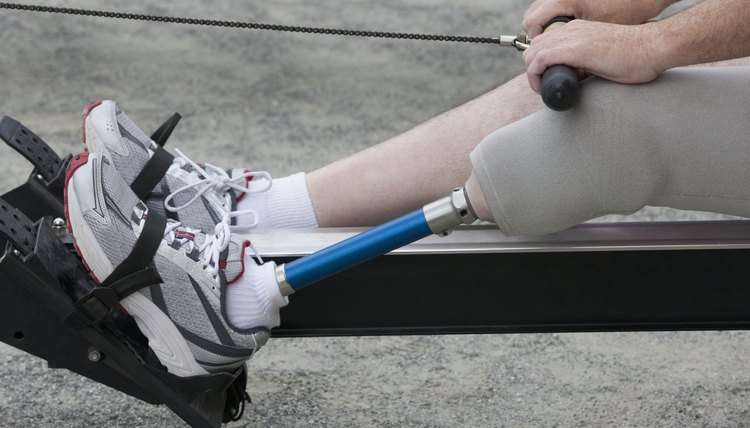 U.S. children with disabilities are guaranteed the right to appropriate physical education services by the Education for All Handicapped Children Act and the Individuals with Disabilities Education Act. Once they reach age 21, however, many disabled people are on their own when it comes to remaining physically active. Many organizations provide a structured environment for exercise that accommodates people of all physical and mental abilities and skill levels.
Benefits
People with physical or mental disabilities often have several barriers to overcome before beginning a fitness program, including increased fatigue, weight and other health problems due to sedentary lifestyles, abnormal reflexes and depression. However, participating in physical activities can increase self-esteem, stamina, balance and coordination; exercise will not "use up" the energy required for daily activities, but will increase it over time. This is especially important for people with developmental disabilities, who tend to find work in industries requiring a lot of physical labor.
Special Olympics
The Special Olympics is one of the leading organizations in the United States for sports competition among physically and mentally challenged athletes. The North American region offers 30 sports, including aquatics, basketball, figure skating, soccer, golf, gymnastics, softball and volleyball. Sports are classified into several skill levels, and youth divisions are also available. Competition is organized locally -- with volunteers serving as coaches and event coordinators -- and progresses to regional, state and national levels.
Wheelchair Exercises
Plenty of fitness options exist for people who use wheelchairs. You can play basketball, football, soccer, table tennis and several other sports in special leagues. Many yoga and tai chi moves are also adaptable for those in wheelchairs. To keep your joints fluid and flexible, your doctor or physical therapist may instruct you to do range-of-motion exercises, such as wrist and shoulder rotations, leg lifts or ankle bends. Range-of-motion exercises are beneficial to your joints whether you're able to do them on your own or have a physical therapist move the joints for you.
Resources
To find a local exercise program for physically or mentally challenged people in your area, check with your county's social services department or your city's parks and recreation department. In addition to Special Olympics, organizations such as Wheelchair and Ambulatory Sports USA and Disabled Sports USA can help to connect you to local resources.
References
Writer Bio
Sarah Barnes has been a professional writer and editor since 2004. She has been published in newspapers and regional magazines in the Wichita, Kansas area. Barnes holds a Bachelor of Arts in journalism from a Midwestern university.