List of Turbo Jam Workouts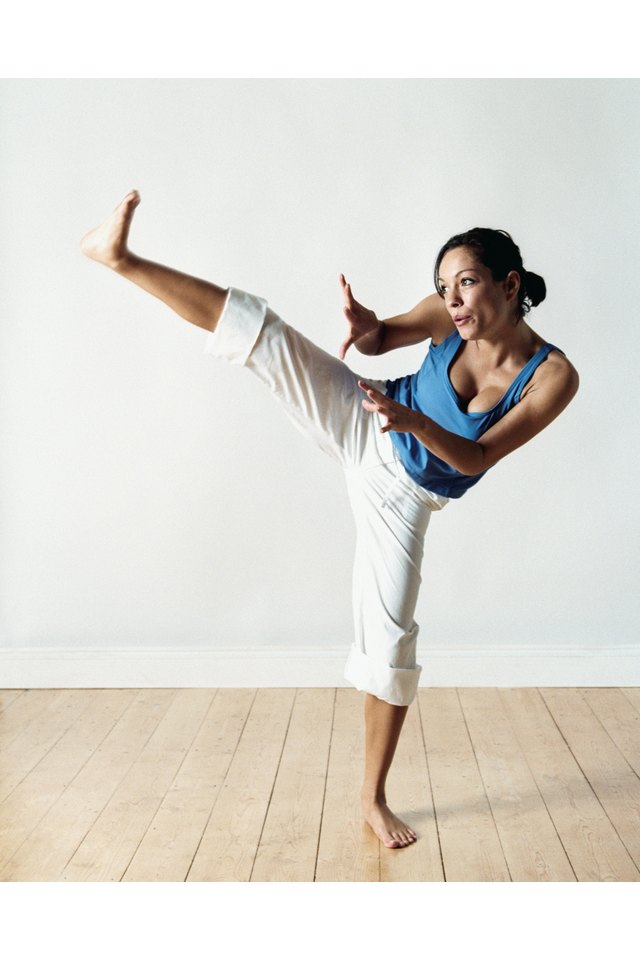 Turbo Jam is a high-intensity home workout program designed and hosted by choreographer Chalene Johnson. It incorporates elements of kickboxing and dancing. The program consists of five video workouts, each serving a specific purpose. Before starting the program, familiarize yourself with these workouts and consult your doctor before starting the program.
Learn & Burn
As the name implies, "Learn & Burn" is an introductory video. The 30-minute workout teaches 11 basic moves, known as the "elite 11," which you'll use in subsequent Turbo Jam workouts. The "elite 11" are unique moves like the "turbo tuck" which is a modified version of the traditional martial arts "horse stance" and the "zig/zag" in which you weave from side to side as though avoiding a punch. According to the "Turbo Results Guidebook" -- the exercise book included with the program -- you should practice this video first to learn the proper technique before attempting the other workouts.
20 Minute Workout
The "20 Minute Workout" is exactly what it sounds like -- a short exercise video that you can easily fit into even the busiest schedule. The "Turbo Results Guidebook" states that this is a good workout when you're short on time, but also recommends it for beginner exercisers who are looking for something a bit easier.
Turbo Sculpt
Turbo Jam is primarily a cardio program, but it does have elements of strength training. If you're looking to build some muscle while getting a cardio workout, then "Turbo Sculpt" is the right option for you. The 40-minute video features strength-training exercises intended to tone your body.
Cardio Party
"Cardio Party" is a fun name for a fun workout. The dance-based routine is a high-energy routine set to upbeat music. But just because it's fun it doesn't mean it will be easy; at 45 minutes "Cardio Party" is the longest Turbo Jam workout.
Ab Jam
Turbo Jam's "Ab Jam" routine targets your core muscles. The "Turbo Results Guidebook" explains that the routine uses "cutting-edge" ab and core exercises designed to build a sexy midsection. But you won't need a lot of time to work on these glamour muscles; the workout is one of the shorter routines at just 20 minutes in length.