The Best Crossover Bike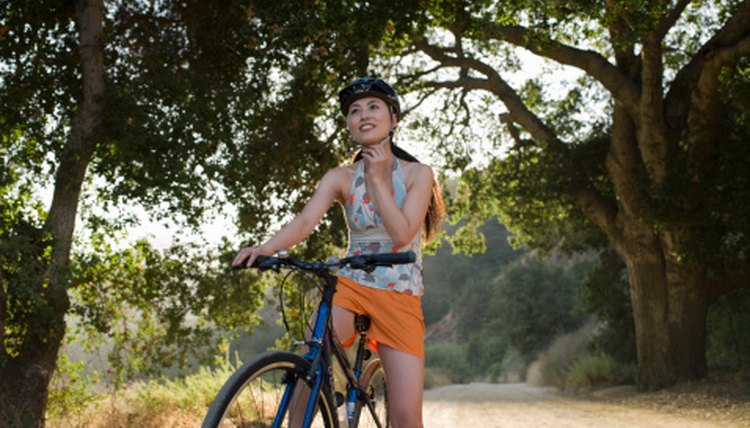 Crossover bikes are also called hybrids and are typically designed to be used both on and off road. Crossovers are most effectively used for touring, or long treks, where comfort and stability are essential, and the ability to carry or tow items is an advantage. With wider tires than a road bike, less suspension than a mountain bike and a frame that allows you to sit upright, hybrids fit all skill levels.
Boardman Hybrid Pro
With 4.5 of 5 stars on Bike Radar, Boardman's Hybrid Pro is "light, responsive, speed-friendly and confident." It is lightweight at about 20 pounds, with a blend of mountain and road bike properties. The bike has a SRAM X9 rear mechanism and X7 mountain bike shifters that give you accurate shifting on the toughest of grades. Hydraulic disc brakes by Avid provide the confidence to hit top speeds without worrying about skidding out, even in inclement weather.
Ghost Cross 5100
The Ghost Cross 5100 is a top-quality women's hybrid. Its Suntour NEX suspension fork, Shimano XT Shadow rear mechanism and Deore shifters give you the ability to smoothly sail over rough and hilly terrain. While it has the appearance of a mountain bike with its dropped top bar and straight handlebars, the Ghost has 700c, or road bike, wheels. This difference allows you to put road tires on the bike for additional speed. If you want to take the bike touring, it also comes equipped with eyelets for a rack.
Raleigh Pioneer Elite 2
Raleigh's Pioneer Elite 2 prompted reviewers on Bike Radar to call it "a relaxed and stylish commuting bike with looks and handling to bring a smile to your face." With grippy tires and geometry that seats you comfortably upright, the Elite 2 earned 4 of 5 stars. Effective on gravel, dirt paths and long-distance routing, this bike provides a stable ride with a wide range of gears for climbing and hydraulic disc brakes for stopping. The bike also comes with the option of mud guards, two bottle cages and carrying racks.
Civia Loring
If you want a hybrid bike that can hold up under the weight of groceries while still managing to handle well, the Civia Loring fits the bill. Earning the 2010 Buyer's Guide distinction from "Bicycling" magazine, the Loring has all the accessories a commuter needs. The rear rack and front basket, which can hold up to 20 pounds, are made for packing heavy or light, while the fenders keep you dry and clean. SRAM i-motion gears and Avid BB5 mechanical disc brakes give you speed options and reliable brakes. With its upright sitting position and 80-degree handlebars, you can easily scan traffic and look over your shoulder.
Writer Bio
Christy Callahan has been researching and writing in the integrative health care field for over five years, focusing on neuro-endocrinology. She has a Bachelor of Science degree in biology, earned credits toward a licensure in traditional Chinese medicine and is a certified Pilates and sport yoga instructor.