YMCA Certification for Beginner Yoga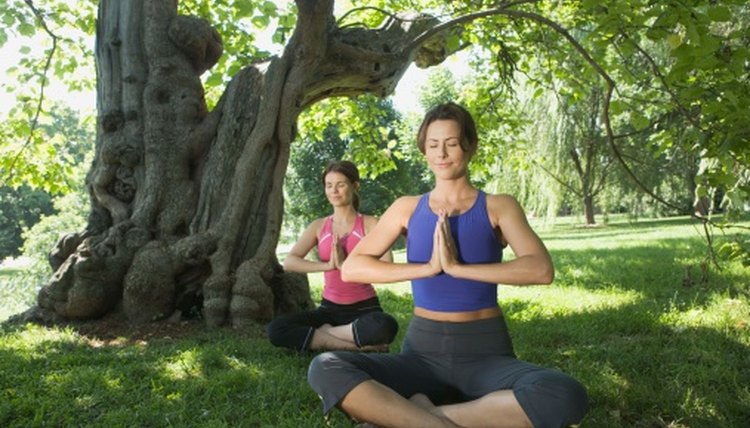 If you are interested in becoming a yoga instructor, the first step is to secure a beginner level teaching credential. YMCA credentials in teaching yoga require studies in fitness and exercise as well as training in yoga instruction. This qualification is specifically designed for fitness professionals who plan to instruct yoga in fitness centers or private studios.
Prerequisites
While the YMCA certificate in teaching yoga doesn't require any prerequisites, participants should have a solid understanding of the principles and practices of beginner level yoga. Individuals who seek certification have typically participated in yoga classes and have a background in fitness instruction, body work or dance. If you have not had extensive experience with yoga, you might wish to commit several months to developing your own practice prior to enrolling in a teaching course.
Course Structure
The YMCA certificate is designed to cover 50 hours of advanced fitness and exercise knowledge. This is followed by 90 hours of study involving the main principles and philosophy of yoga. Participants then spend 50 hours developing and planning a progressive yoga session and a final 50 hours teaching, evaluating and modifying their yoga session.
Exams and Evaluations
Student progress and eligibility for certification is based on internal evaluations of professional practice journals,worksheets, lesson plans, teacher observation and a reflective logbook. Candidates for a credential must also complete a paper on the theory of yoga, which is then assessed by external evaluators. Upon successful completion of the course work and assessments, candidates are awarded a certificate that is valid for seven years.
Expert Insight
Instructors who earn a YMCA yoga instruction certificate complete 240 hours of basic yoga study. Instructors who wish to pursue work in a fitness center or studio can benefit from working with a teaching mentor. This can be achieved by selecting a highly experienced local instructor and attending his classes and workshops. In addition, while the YMCA does not offer specialized certificates in advanced yoga, several yoga organizations, such as the Yoga Alliance, offer continuing education courses for instructors who wish to advance their teaching practices.
References
Writer Bio
Christy Bowles has 15 years of experience in the field of education, with 10 years working in mental health and wellness. She specializes in the treatment of depression, anxiety and substance abuse, with a focus on alternative treatment modalities. Bowles holds a Master of Education from Harvard University.