24 Hour Fitness Personal Trainer Certification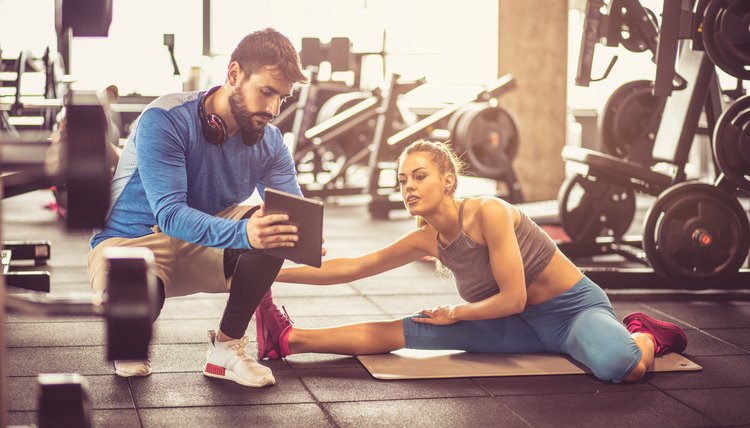 The 24 Hour Fitness chain started with a single fitness club in 1983 in the San Francisco Bay Area. As of 2018, 24 Hour Fitness has more than 400 fitness clubs in 13 states across the U.S. These fitness clubs employ personal trainers that members can hire to help them achieve weightlifting and fitness goals. These trainers must meet certain certification requirements before being hired.
Education Requirements
Personal trainers are employed and available at all 24 Hour Fitness locations. According to the 24 Hour Fitness careers website, personal trainers must have a high school diploma or general equivalency diploma (GED). In addition, the 24 Hour job site notes that either an undergraduate degree or a national certification are required. Bachelors degrees should be in kinesiology, exercise science or another related field.
Training Certifications
All 24 Hour Fitness personal trainers who do not have a degree in a fitness-related field are required to obtain at least one nationally recognized personal training certification. There are many certifications to choose from, but 24 Hour Fitness only accepts certifications from the following 13 organizations:
American College of Sports Medicine (ACSM)

American Council on Exercise (ACE)

International Fitness Professionals Association (IFPA)

National Academy of Sports Medicine (NASM)

National Council on Strength and Fitness (NCSF)

National Exercise and Sports Trainers Association (NESTA)

National Federation of Professional Trainers (NFPT)

National Strength and Conditioning Association (NSCA)

Cooper Institute for Aerobics Research
C.H.E.K Institute
National Exercise Trainers Association (NETA)
PTA Global
World Instructor Training Schools
Additional Certifications
Personal trainers deal with a wide variety of people of different fitness levels, and when exercising, people can require immediate medical attention. Therefore 24 Hour Fitness centers require their personal trainers to have current emergency medical training certifications. All trainers must be certified in cardiopulmonary resuscitation, or CPR, and automated external defibrillator, or AED. Both certifications are designed to ensure that trainers can provide medical assistance in the event of an emergency.
Get Certified, Get Hired
If you have a passion for fitness and you enjoy helping others, you already have a lot of what it takes to be a good personal trainer. With a high school degree or GED, you could be certified in as few as three months if you study hard. Register for certification with one of the organizations listed, pass the exam to receive your certificate and get your CPR and AED certificates. Then check the 24 Hour Fitness website to see if they are hiring in your area.
References
Writer Bio
Based in Harker Heights, Texas, Timothy Onkst has been writing about sports, fitness and health since 2003. His articles have appeared in a variety of publications including "Texas Roundball" magazine, Yahoo Sports, Fox Sports and other websites.