Homemade Treadmills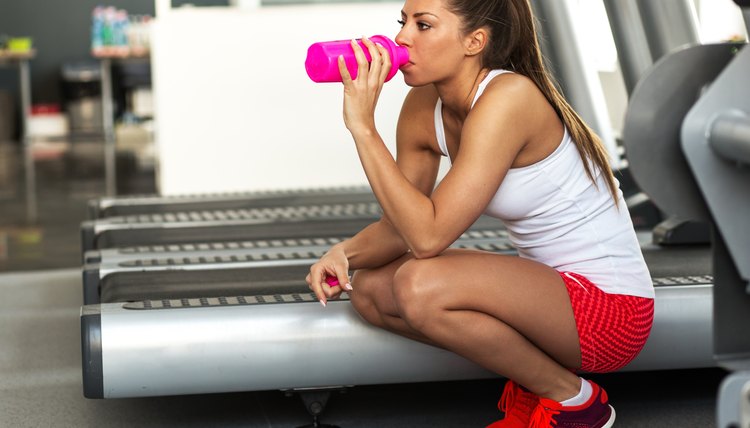 If you're handy and want to save some money, you can build a homemade treadmill. A treadmill must hold your body weight and withstand vigorous movement, so consider your safety when constructing a homemade treadmill. You can also save energy with a homemade treadmill, if you design a ramp that depends on your efforts rather than electricity to keep it moving.
Parts
A treadmill may include these parts: motor with a 1.5 to 3 horsepower to provide power to the treadmill belt; a flywheel to regulate the belt under the impact of your weight and moving feet; a frame to hold the parts of the treadmill together; rollers to keep the treadmill belt running smoothly; a deck to support the running surface; a belt or possibly two belts; and an electronic display console. On a homemade treadmill, you could skip the motor and display console. Consider your weight and workout intensity when choosing material for the frame -- aluminum holds more weight than steel. Rollers with larger diameters may keep the treadmill running more smoothly.
Fixer Upper
An alternative to building a homemade treadmill entirely from scratch is purchasing a manufactured treadmill in need of repair. You can purchase one inexpensively at a garage sale and replace parts as needed.
Dog Treadmill
You can build a homemade dog treadmill, sometimes called a carpet mill, similar to the one you design for yourself. You may wish to include a motor on the treadmill for your dog to encourage proper use, but you could train your pet to operate a manual treadmill. The dog treadmill should include a slight incline. Design a walking board long enough to accommodate your dog's stride.
Considerations
If you like to multitask, you could outfit your homemade treadmill with a detachable desk. Don't use this during a vigorous run, but you could get some work done while walking on your treadmill. If you want to work and work out at the same time, keep your pace between 1 and 2 miles per hour. You can burn 150 calories an hour working at your desk and walking on the treadmill. If you enjoy wireless Internet access and add a hands-free headset to the arrangement, you will net a fully functional work and workout space.
References
Resources
Writer Bio
Since 2005, Milo Dakota has ghostwritten articles and book manuscripts for doctors, lawyers, psychologists, nutritionists, diet experts, fitness instructors, acupuncturists, chiropractors and others in the medical and health profession. Her work for others has appeared in the "Journal of the American Medical Society" and earned accolades in "The New York Times." She holds a Master of Art in journalism from the University of Michigan.