Review of the HealthStream Treadmill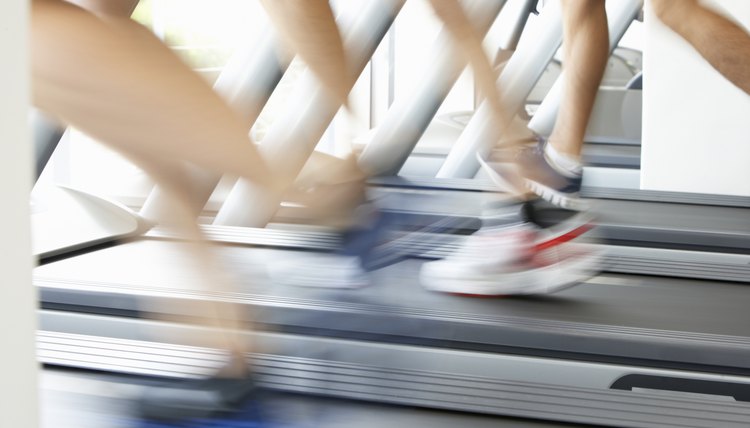 Streamline your health with one of seven different treadmills offered by Healthstream. When selecting the right fit for you, treadmillreviews.net recommends taking all the features into account, including the maximum speed, user weight, incline adjustments and belt dimensions. These factors can make the difference between an enjoying exercise session and a weary workout.
Speed Racer
The seven Healthstream treadmills range in minimum and maximum speeds of 0.5 to 12 mph. As an alternative, you can set the display to list the speeds in kilometers. Treadmillreviews.net recommend a maximum speed of at least 10 mph to support the pace of most runners. Models 8800, 810 and 618 have the highest maximum speeds at 12 mph, which will more than accommodate exercisers who run at a five-minute per mile pace.
Movin' On Up
If you require more than a speed adjustment to increase the intensity of your workout, raise the incline. Healthstream inclines range up to 20 percent. Model 618 reaches this highest incline. Next in line at a maximum of 15 percent incline are models 790, 810, 8800 and 568. The lowest incline of 12 percent is available on models 501 and 818.
Room to Move
A comfort consideration when purchasing a treadmill is the amount of running surface, which is also referred to as the treadmill deck. While you walk or run, you want enough width so you can swing your arms and not hit the handrails. The length of the deck should accommodate your natural stride, so you do not have to take small steps or worry about kicking the motor cover. The Healthstream treadmills vary in widths from 19 to 22 inches and in lengths from 51.2 to 61 inches. Model 790 has the largest running surface. If you are tall, or have a long stride length, treadmillreviews.net recommends a running surface of at least 55 inches.
To The Max
Treadmills have a maximum weight capacity to protect you and the equipment. The machines typically hold from 250 to 400 pounds. However, the treadmill you select should be one that supports at least 50 pounds more than your weight. The Healthstream treadmills fall within this range and support between 300 and 330 pounds. The models that support the most weight are 790, 810, 8800 and 618. This weight capacity is affected by the motor's horsepower, with a higher horsepower motor supporting more weight. The Healthstream treadmill motors range between 3.0 and 3.25 horsepower.
References
Writer Bio
A mother of two and passionate fitness presenter, Lisa M. Wolfe had her first fitness article published in 2001. She is the author of six fitness books and holds an Associate of Arts in exercise science from Oakland Community College. When not writing, Wolfe is hula-hooping, kayaking, walking or cycling.