How Much Weight Does the ProForm Crosswalk 370e Treadmill Hold?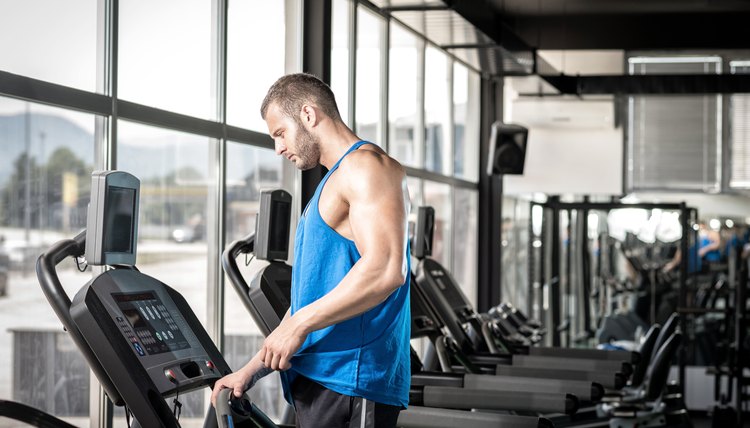 The ProForm Crosswalk 370e Treadmill is an exercise machine made by ProForm for home use. Although it is no longer available through the company's website, it is still available through third-party retailers or secondhand. Compared to ProForm's newer models, such as the Power series, the Crosswalk has a significantly lower weight limit. Always be sure to use and store the Crosswalk treadmill correctly.
Machine Specifications
The ProForm Crosswalk 370e is equipped with a 2.25 peak horsepower motor. It weighs 150 pounds and can support up to 250 pounds. The treadmill belt measures 17 inches wide and 50 inches long and can run up to 10 mph in increments of 0.1 mph. The incline is also adjustable anywhere between 1.5 to 10 percent. Conveniently, the Crosswalk treadmill can fold up for fast storage.
Side-by-Side Comparisons
Newer ProForm Treadmills can not only support more weight but also have a greater variety of options available. The Power series can support up to 350 pounds, has a larger belt and can reach up to 12 mph with a 15 percent incline. If you are heavier or looking for a treadmill that can provide a more intense workout, newer models have more to offer. However, if you weigh under 250 pounds and are looking to incorporate some light cardio into your workout routine, a secondhand Crosswalk 370e is a budget-friendly option.
Workout Programs
The ProForm Crosswalk treadmill comes with two preprogrammed workouts in addition to manual mode, suitable for any novice runner. The 5K Run program gradually increases to 6.5 mph, recording your remaining distance until you've completed the run. The 30 Minute Challenge program is divided into 30 one-minute periods and will automatically adjust to a different speed each minute.
Other Features
The Crosswalk allows you to set a daily calorie goal and provides a pulse sensor to measure your heart rate with. It also comes with an arm attachment that helps you to incorporate upper-body conditioning into your cardio routine, exercising your arms, shoulders and back for a total-body workout. It's also possible to change the resistance of the upper-body arm attachments and vary the intensity.
References
Writer Bio
Sarah Koh has been writing for online magazines such as CleverHive, CollegeFashion and MyDiet since 2010, and has recently begun to branch out into technology and video game reviews for BagoGames. She specializes in articles on the three fs: fashion, food, and fitness.