Proform Treadmill T35 Specs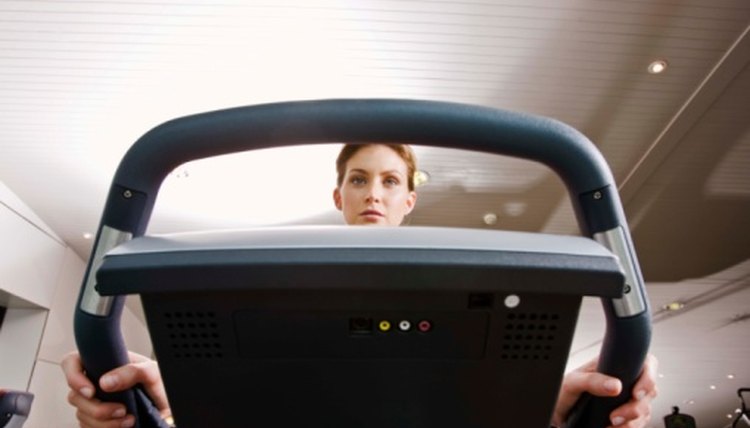 The T35 Power Incline treadmill was manufactured around 1999. It was made by ProForm to be sold through Sears department stores. The T35 is a motorized treadmill for in-home use. You cannot purchase the T35 new; other models have replaced it. However, you may find used T35 treadmills for sale by private owners.
Design
The T35 is one of ProForm's popular fold-away treadmill models. You can save valuable floor space by folding the treadmill when you're not using it. Simply lift the walking deck up until it locks into a vertical position. There are wheels on the base so you can roll it to a storage area. The walking deck of the T35 is cushioned to absorb some of the impact on your joints. It features a maintenance-free walking belt that has been coated with a high-performance lubricant at the factory. You do not need to apply silicone or any other sprays or oils to the walking belt.
Console
The electronic console has two viewing windows. The first display shows the elapsed time and distance that you have walked or run. The second display shows the approximate number of calories and fat calories you have burned. It also displays the speed of the walking belt. Each display flips data every seven seconds.
Features
The ProForm T35 features a 2-horsepower DC motor than can support speeds up to 10 mph. You can adjust the incline of the ramp with the press of a button on the console. The T35 has a built-in safety feature. A key must be inserted into the console to start a workout. The key is on one end of a small string. You clip the other end to your waistband. If you trip or fall behind on the treadmill, the safety key will be pulled out of the console, stopping the machine.
Writer Bio
Based in Austin, Texas, Jolie Johnson has been in the fitness industry for over 12 years and has been writing fitness-related articles since 2008 for various websites. She received her Bachelor of Arts in English and philosophy from the University of Illinois.