What does fact checked mean?
At SportsRec, we strive to deliver objective content that is accurate and up-to-date. Our team periodically reviews articles in order to ensure content quality. The sources cited below consist of evidence from peer-reviewed journals, prominent medical organizations, academic associations, and government data.
The information contained on this site is for informational purposes only, and should not be used as a substitute for the advice of a professional health care provider. Please check with the appropriate physician regarding health questions and concerns. Although we strive to deliver accurate and up-to-date information, no guarantee to that effect is made.
Features of the Proform XP 130 Elliptical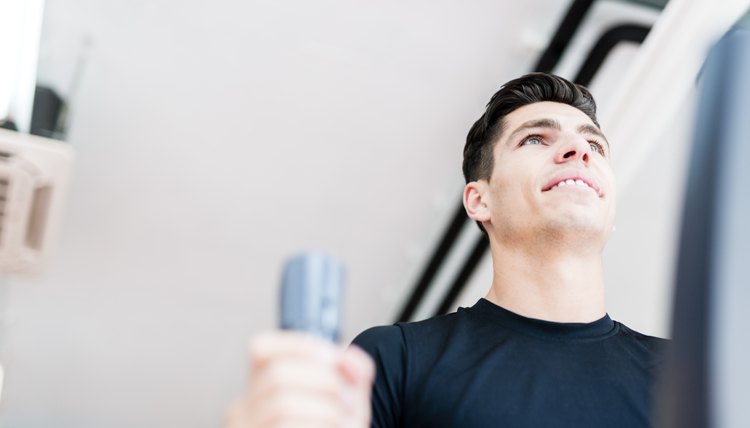 The ProForm XP 130 Elliptical trainer offers a low-impact, stationary exercise for your at-home workouts. The motion combines two activities: cross-country skiing and stair climbing. Your feet remain on the pedals, which reduces the impact on your ankles, knees and hips, as you move the pedals forward or backward.
Let's Get Personal
The XP 130 elliptical is designed for easy use. The machine does not require the use of electricity. Instead, the console requires batteries, so the cost of operating your elliptical is minimal. The machine supports weights up to 250 pounds, which accommodates many users. You are able to monitor your workout intensity level by using the pulse sensors on the hand grips. Knowing your heart rate can help you keep your workout on track for reaching your goals, such as weight loss, cardio health or endurance.
Built-In Benefits
The American College of Sports Medicine recommends a rear-driven, as opposed to front-driven, elliptical machine. The ProForm is rear-driven for a more comfortable workout session. Many elliptical machines are large and cannot be easily stored. The ProForm XP 130 folds up so you can store the machine in a corner or a closet and easily roll it into the middle of the room for use. It has moveable arms to improve your calorie-burning and muscle-building benefits. The machine also comes with a fan for your convenience when you exercise in warmer temperatures.
Perfect Programs
The workout options on the elliptical trainer are varied so you don't have to repeat the same workout daily or worry about being bored. Your options on the XP 130 are a manual mode, which allows you to adjust the resistance throughout your session, and one of four preset programs. These workouts are based on calorie burn, pulse control, resistance, pace and distance. The distance program stops when you reach 5,000 revolutions per minute. These programs automatically adjust the speed and resistance of your workout.
Computer Savvy
In these days of technology, the ProForm XP 130 has a place. It is available with iFit programs and can be connected to your computer, television or stereo for personalized instruction. You insert the iFit CD and the machine adjusts your speed and resistance throughout the workout. For more variety, when the elliptical is connected to your computer, you can download new, motivating workouts from the iFit web-site. If anything goes wrong with the elliptical trainer, ProForm offers a 90-day warranty.
References
Writer Bio
A mother of two and passionate fitness presenter, Lisa M. Wolfe had her first fitness article published in 2001. She is the author of six fitness books and holds an Associate of Arts in exercise science from Oakland Community College. When not writing, Wolfe is hula-hooping, kayaking, walking or cycling.