Jackson Skates Vs. Riedell Skates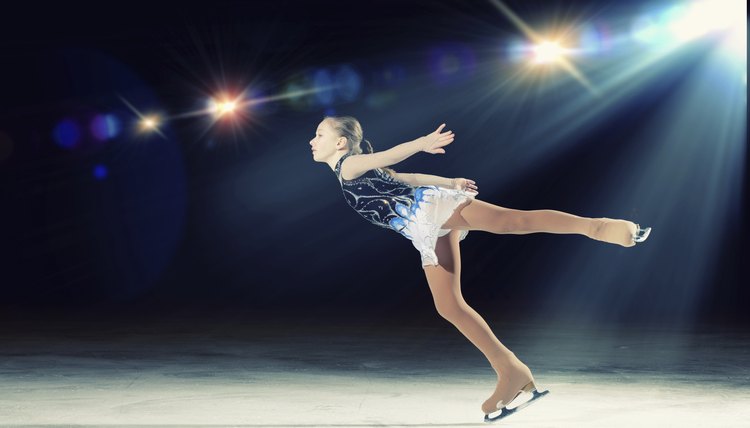 Jackson and Riedell are two of the biggest names in the skating world. Both companies have a distinguished history, and both manufacture a broad range of figure skates to suit everyone from a beginning skater to an Olympic champion. Riedell makes both roller skates and ice skates, but Jackson just makes ice skates. According to DiscountSkatewear.com, Jackson offers good options for beginning skaters, while Riedell has good options for mid-level skaters.
Jackson Skates
Jackson Skates and its sister company GAM Figure Skates are both owned by Canadian conglomerate Tournament Sports, which focuses on skating and golf products. The company was founded in 1966 by Don Jackson, winner of the 1962 World Figure Skating Championship. In 1996, Jackson built a state-of-the-art factory in Ottawa. The University of Delaware and Jackson Ultima Skates teamed up in 2004 to redesign the traditional figure skate and develop a skate with a hinged boot to enable elite competitors to flex their ankles on jumps in order to reduce the types of overuse injuries that cut short the careers of young champions such as Tara Lipinski.
Riedell Skates
Paul and his wife Sophie Riedell founded Riedell Shoes in Red Wing, Minnesota in 1947. Their intention was to craft the finest quality skates in the business, as well as offer affordable, high-quality skates for people at every level of expertise. Champions such as Kurt Browing and Johnny Weir have worn Riedell boots and blades. The company is proud of its Eclipse blades, which it says have the most consistent skating edges on the market.
Product Lines
Both Jackson and Riedell have a competitive series. Riedell features 2010 U.S. National Champion Rachell Flatt in the marketing its competitive series product line. Its high-end skate boots feature an ultralite cork heel that the company says is 20 percent lighter that other heels. Competitive series boots cost roughly $750, and blades another $575, as of November 2021.
Jackson has its own competitive product line, as well as three lines for recreational and beginning skaters, including a soft boot that resembles a high-top tennis shoe.
Buying Tips
Comparing Jackson and Riedell skates is like comparing Coke and Pepsi -- your preference will be based on individual taste rather than quality. When it comes to ice skates, always consider fit and feel.
To get the best fit and feel, sit down when your feet are measured. Wear very thin ice skating socks, and be aware that different manufacturers sometimes size their shoes differently.
Lace ice skates up tightly when you try them on, with more of the lace pressure on the top four eyelets. Moderately stiff boots give your feet and ankles good support and decent flexibility.
Expect ice skates to take some breaking-in time.
References
Writer Bio
Jim Thomas has been a freelance writer since 1978. He wrote a book about professional golfers and has written magazine articles about sports, politics, legal issues, travel and business for national and Northwest publications. He received a Juris Doctor from Duke Law School and a Bachelor of Science in political science from Whitman College.