Types of Football Turf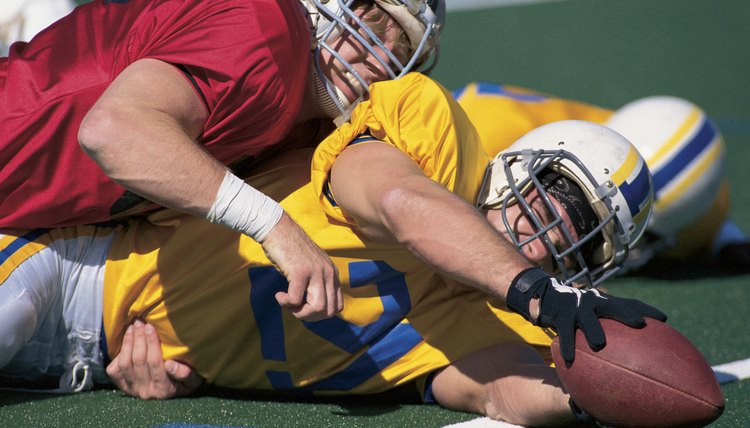 Traditionally, football fields used a variety of turfgrasses to maintain a playing surface. With the invention of artificial turf, which is a man-made product, natural grasses were replaced on many athletic fields including football fields. Artificial turf eliminated grass maintenance and upkeep. It allows many games to be played regardless of weather or conditions. A few different types of artificial turfs are currently used on football fields.
Natural Turfgrass Fields
Research continues on natural turfgrasses, seeking varieties that provide a tough playing surface that can stand up to the rigors of football and other field sports. In general, Kentucky bluegrass, perennial ryegrass, tall fescue, Bermudagrass, zoysiagrass or a combination of varieties are used for football fields. While natural grass requires significant resources in manpower, water, fertilizer and pest control, it remains a viable choice in fields ranging from recreational to professional sports, including National Football League stadiums.
The Original AstroTurf
AstroTurf was the original artificial turf surface that was invented in 1966, according to "USA Today." AstroTurf surfaces were very hard with very little padding and no flexibility to the surface. According to "USA Today," although AstroTurf was once used in many NFL, professional and college stadiums, as of 2009 the original product is no longer used in US professional sports arenas.
Field Turf
Field turf is one of the newer artificial turf surfaces which is made to mimic natural grass. According to "USA Today," as of 2008, field turf was dominating the turf market with over 1,900 fields and 10 NFL football fields using the product. Field turf is made with polyethylene blades that range up to 3/4 inch tall and a mix of crushed tires, or crumb rubber, to soften the surface. Underneath the field, field turf uses a base of crushed stones and drainage pipes.
AstroPlay
AstroPlay is a surface that is made by the makers of AstroTurf. The surface of AstroPlay is very similar to field turf except AstroPlay uses only a rubber base instead of crushed sand and rock. The manufacturer's website notes that AstroPlay uses polyethylene blades with a rubber and nylon root zone. In addition to the improved surface, the turf can be imbedded with antimicrobial technology. AstroPlay is used in a variety of field sports stadiums around the world, including professional soccer and NFL football fields.
SprinTurf
SprinTurf is an artificial turf manufacturer in Pennsylvania that makes a variety of artificial surfaces. According to the company website, SprinTurf offers five kinds of synthetic blade systems and six options for infilling the field, such as rubber or sand. The company's fields are used by numerous high school and college football teams across the country.
Matrix Turf
Matrix Turf is an artificial turf manufactured in Austin, Texas. This turf is used in the NFL Dallas Cowboys' stadium and was installed in New Orleans' Ernest N. Morial Convention Center for Superbowl XLVII's 2013 NFL Experience event. According to the manufacturer's website, the artificial blades of Matrix Turf are made in several lengths and shapes and installed with a silica pea gravel base designed to help cushioning and shock absorption.
References
Writer Bio
Based in Harker Heights, Texas, Timothy Onkst has been writing about sports, fitness and health since 2003. His articles have appeared in a variety of publications including "Texas Roundball" magazine, Yahoo Sports, Fox Sports and other websites.