Why Turf Is Better Than Grass in Football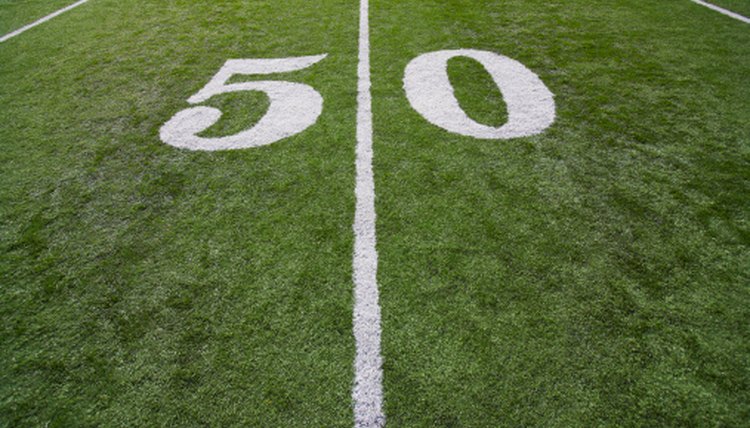 In its early years, athletes dreaded playing games on artificial turf. In many cases, the turf was nothing but plastic carpeting made to look like grass. In many cases, players suffered serious turf burns on their arms and other exposed areas of their body. Wearing the wrong shoes often led to serious knee and ankle injuries. Improvements in artificial turf have made it much better to play on; in many cases, it can be better than grass.
Longevity
A new artificial turf football field will not have to be replaced for five years or more. A grass football field, on the other hand, must be maintained regularly if it is going to last more than two years under the wear and tear of practices, games and inclement weather. You will spend a lot more money to maintain a grass football field than you will a modern artificial turf field.
Climate Changes
Grass fields are supposed to be soft and smooth for players to land on when they are blocked or tackled — but just try telling that to any player who has been hit hard while playing in temperatures of 25 degrees or colder. Grass will not grow in winter weather conditions. If grass remains on the field, it is hard and brittle. Indeed, there have been many cases of NFL teams painting their fields green to make them look good for television. Playing on painted dirt can result in serious injuries in winter conditions. Artificial turf, with rubber pellets for cushioning, is much easier on a player's body.
Saving Resources
To keep grass growing on a football field throughout the year, you need a lot of water and fertilizer — taxing both on your budget and to the environment. Thousands of gallons of water used every day to keep a football field properly maintained could be used in other areas. Fertilizer can also be very expensive, and may have environmental consequences off the field.
Injury Rate
Recent improvements in artificial turf have resulted in an injury rate that is significantly lower than with the first generation of artificial turf. A five-year study comparing artificial turf to grass for football injuries, published in 2004 in the "American Journal of Sports Medicine," concluded that there were 15.2 injuries per 10 games played on artificial turf to 13.8 injuries per 10 games played on grass — a notable improvement in the artificial turf ratings from previous generations. Further, researchers saw a greater incidence on grass of injuries that kept players off the field for several days or more.
References
Writer Bio
Steve Silverman is an award-winning writer, covering sports since 1980. Silverman authored The Minnesota Vikings: The Good, The Bad and The Ugly and Who's Better, Who's Best in Football -- The Top 60 Players of All-Time, among others, and placed in the Pro Football Writers of America awards three times. Silverman holds a Master of Science in journalism from the Medill School of Journalism.