What Do You Wear Under Yoga Pants?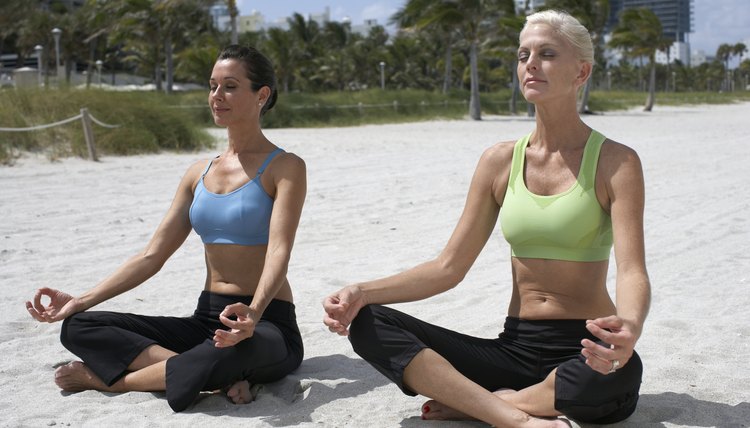 When you're contorted into downward dog, the last thing you want to be concerned about is whether or not your panty line is showing. Yoga pants are the ultimate in flexible athletic wear, but their characteristic thin, stretchy fabric is not exactly modest when it comes to covering up what's underneath. What's more, you'll need underwear that stays put as you move into different positions. Trying a variety of types of underwear will help you identify which is the most comfortable for you.
Boy Shorts
If you're worried about the dreaded visible panty line in your yoga pants, a boy short can be more discreet. Since a boy short underwear is longer than typical briefs, the line of the underwear stops at the top of the thigh, rather than straight across the bottom. Boy shorts are also superior for staying put, since they are less likely to bunch or ride up as you practice your poses. Men can also try similar jockey shorts that are shorter in length than typical underwear.
Briefs
Briefs are a comfortable option for yoga, especially if they are more akin to the type of underwear you choose for your day-to-day wardrobe. One of the biggest concerns with briefs, however, is they can be painfully obvious when worn under tight-fitting yoga pants. If you do decide to wear briefs to yoga, look for seamless varieties with flat edges so you can't see them underneath your yoga wear.
Thongs
Thongs are a sensible choice for yoga, even if you don't tend to wear them otherwise. While they may seem uncomfortable at first, having as little fabric as possible can help keep you cool while practicing hot yoga while doing away with a panty line at the same time. If you're worried about their scant appearance, choose a more substantial thong with a thicker middle strap and a wide, comfortable band at the top to keep your thong in place for more comfortable exercise.
Built In
Some eschew the idea of wearing underwear under yoga pants at all. Still, having fabric to wick away sweat and moisture is good practice, so look for yoga pants that have underwear built in, much like a pair of men's swimming trunks. With the built in variety of yoga underwear, the underwear is attached to the pants securely. This does away with lines, keeps the underwear in place and makes getting dressed for yoga a one-step process.
References
Writer Bio
Kay Ireland specializes in health, fitness and lifestyle topics. She is a support worker in the neonatal intensive care and antepartum units of her local hospital and recently became a certified group fitness instructor.