What does fact checked mean?
At SportsRec, we strive to deliver objective content that is accurate and up-to-date. Our team periodically reviews articles in order to ensure content quality. The sources cited below consist of evidence from peer-reviewed journals, prominent medical organizations, academic associations, and government data.
The information contained on this site is for informational purposes only, and should not be used as a substitute for the advice of a professional health care provider. Please check with the appropriate physician regarding health questions and concerns. Although we strive to deliver accurate and up-to-date information, no guarantee to that effect is made.
Workouts for Biceps & Triceps With Dumbbells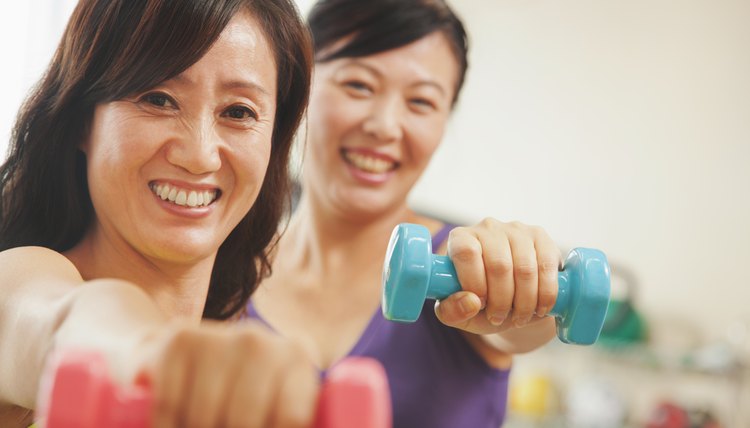 Working out your arms with dumbbells is beneficial because each arm is forced to work independently of the other. When you're using weight machines or a barbell, your more dominant upper limb could take on a greater percentage of the load and, as a result, your other arm won't receive as much benefit from the work.
Structuring Your Workout
Biceps are located at the front of your upper arms and are responsible for bending your elbows. Your triceps run down the back of your upper arms and straighten your elbows. You can save time and yet still give these muscles the rest they need in between sets by organizing your workout in a superset structure. This means you do an exercise set for your biceps and then immediately, without rest, jump into an exercise set for your triceps.
Targeting your Biceps
With a pair of dumbbells, you can target your biceps with standing curls and incline curls. To perform standing curls, stand with your feet hip-width apart and hold the dumbbells down by your sides with your palms facing the sides of your thighs. Bend your elbows to curl the dumbbells up to your shoulders, rotating your wrists after the weights clear your legs so that your palms face upward as you lift the weights. For incline curls, recline on an incline bench set to about 60 degrees. With your arms hanging down by your sides and your palms facing forward, bend your elbows to curl the weights to your shoulders.
Developing the Triceps
To work your triceps with dumbbells, incorporate the lying dumbbell triceps extension and the standing dumbbell triceps extension into your workout. For the lying triceps extension, hold a pair of dumbbells and lie on a flat bench. Begin with your arms held up vertically and your palms facing each other. From this position, bend your elbows to lower the dumbbells to the sides of your face and then straighten them to return the weights to the starting position. Perform the standing triceps extension with a single dumbbell. Grip the dumbbell's handle with both hands and hold it over your head with your arms fully extended. Bend your elbows to lower the dumbbell back behind your head and then straighten them to return the weight back up.
Using Dumbbells
When selecting dumbbells to use for your biceps and triceps exercises, choose a load that makes each set challenging to complete. For example, if you're looking to build size in your upper arms, do six to 12 reps. Use a weight that will allow you to perform between six to 12 reps using correct technique. If you're unable to do six reps correctly, select a lighter dumbbell next time. If you can perform 12 reps with ease, it's time to use a heavier weight. If you're training for strength, do six or fewer reps with a heavier weight.
References
Writer Bio
Kim Nunley has been screenwriting and working as an online health and fitness writer since 2005. She's had multiple short screenplays produced and her feature scripts have placed at the Austin Film Festival. Prior to writing full-time, she worked as a strength coach, athletic coach and college instructor. She holds a master's degree in kinesiology from California State University, Fullerton.