What does fact checked mean?
At SportsRec, we strive to deliver objective content that is accurate and up-to-date. Our team periodically reviews articles in order to ensure content quality. The sources cited below consist of evidence from peer-reviewed journals, prominent medical organizations, academic associations, and government data.
The information contained on this site is for informational purposes only, and should not be used as a substitute for the advice of a professional health care provider. Please check with the appropriate physician regarding health questions and concerns. Although we strive to deliver accurate and up-to-date information, no guarantee to that effect is made.
How to Work the Inner & Outer Biceps With Dumbbells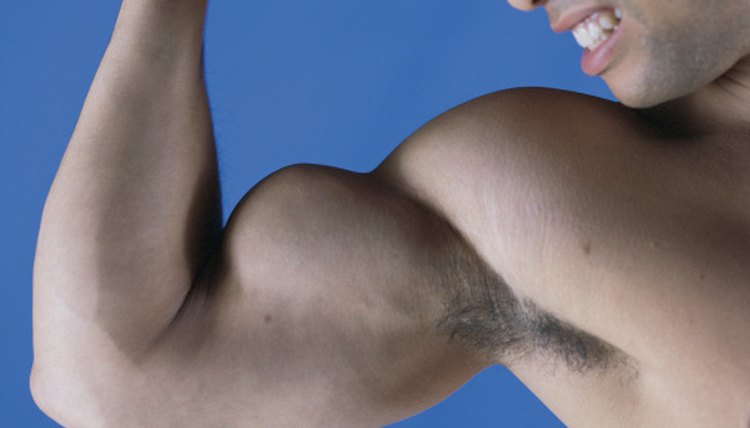 Building nicely rounded biceps along the entire length and width of your upper arms is best done using dumbbells. Dumbbells enable you to move through a more varied range of motion to work the inner and outer divisions of your biceps brachii muscle. The inner belly is commonly referred to as the short head while the outer belly is called the long head. Rotating your arm bone outward more strongly engages the inner bicep while turning your arm bone inward focuses on the outer bicep during any dumbbell curling exercise.
Diagonal Curls
Hold a moderately heavy dumbbell in your right hand. Stand with your feet wider than your shoulders and your knees slightly bent.
Tuck your right elbow against the right side of your ribs and hips, keeping your upper arm against your ribcage.
Perform diagonal curls by first extending your elbows so your arm is nearly straight and out toward the right side of your body; the angle at your elbows should be about 135 degrees. Simultaneously bend your elbow to curl the dumbbell toward you as you rotate your arm inward for a biceps curl, focusing on the inner biceps; the dumbbell should be near the center of your chest at the end of the curl.
Straighten your elbow again slowly, rotating your arm bone back out toward your right side. Repeat the exercise for one set of six to 12 reps, then switch arms.
Concentration Curls
Grab a moderately heavy dumbbell then sit at the end of a flat bench. Separate your thighs so you have enough space to curl a dumbbell between your legs.
Hold the dumbbell in your right hand, leaning forward from your hips while keeping your trunk straight. Put your left hand on your left thigh to support your body weight, place your right elbow on the inner surface of your right thigh, close to your knee.
Straighten your right arm and rotate your palm to face away from you. Simultaneously rotate your palm upward to face you as you contract your bicep muscles to draw the dumbbell toward your chin, focusing on your outer bicep.
Rotate your palms to face downward as you slowly lower the dumbbell, straightening your arm. Repeat for one set of six to 12 repetitions, then switch sides.
Tips
Vary the weight of the dumbbells you use so you can complete four to six sets of five to 15 repetitions to tone, build and strengthen your biceps.
References
"Personal Trainer Manual"; American Council on Exercise; 1997
Tips
Vary the weight of the dumbbells you use so you can complete four to six sets of five to 15 repetitions to tone, build and strengthen your biceps.
Writer Bio
Paula Quinene is an Expert/Talent, Writer and Content Evaluator for Demand Media, with more than 1,500 articles published primarily in health, fitness and nutrition. She has been an avid weight trainer and runner since 1988. She has worked in the fitness industry since 1990. She graduated with a Bachelor's in exercise science from the University of Oregon and continues to train clients as an ACSM-Certified Health Fitness Specialist.