The Description of a Gymnast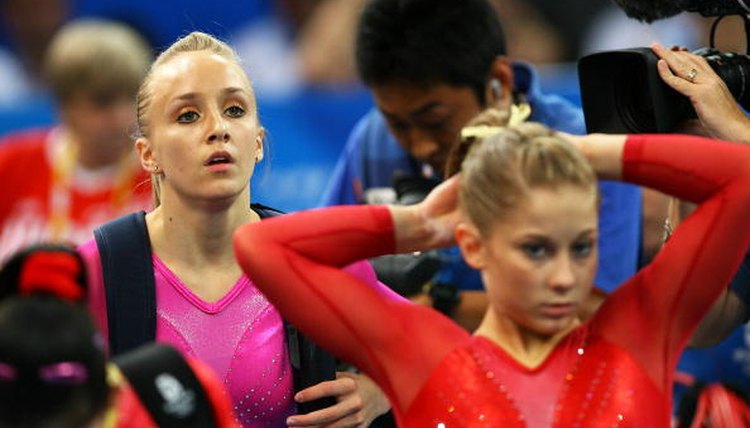 When many people think of gymnasts, they think of famous artistic gymnasts, such as Nadia Comaneci, Bart Connor or Shannon Miller. But the world of gymnastics is far more than the artistic side. Gymnasts come in all sizes, ages and disciplines. Anyone who practices a recognized gymnastics sport is a gymnast.
Artistic Gymnasts
In artistic gymnastics, men compete on the floor, vault, parallel bars, high bar, still rings and pommel horse. Women compete on the floor, vault, uneven bars and balance beam. When learning gymnastics, a gymnast usually begins on the floor and progresses to the other events, using modified equipment, such as a low balance beam and low horizontal bar. Elite gymnasts compete as individuals and as part of a team.
Gymnasts of All Types
Rather than competing on several different apparatuses, many gymnasts focus on one. Rhythmic gymnasts, who in most countries are only female, dance and tumble using ribbons, hoops, clubs, ropes and balls. Men and women aerobic gymnastics combine aerobics and gymnastics in floor routines. Acrobatic gymnasts work in pairs or in groups of three or four, balancing on and tumbling off one another. Power tumblers are gymnasts who tumble across an elevated spring runway, executing one acrobatic flip or twist after another. Another group of gymnasts competes solely on the trampoline, either as an individual or with a synchronized partner.
Physical Qualities
Gymnasts are strong, flexible, and have superior balance and control. In women's artistic gymnastics, gymnasts usually fall into two body types: thin and willowy like 2008 all-around Olympic gold medalist Nastia Luikin, and short and muscular like 2008 teammate and balance beam gold medalist Shawn Johnson. The men are extremely muscular, especially in the arms, as they must support themselves with their upper-body strength on the still rings, parallel bars and pommel horse. Rhythmic gymnasts are less muscular because they do not have to power down the vault runway like an artistic gymnast or tumble at the level of a tumbler.
Training
All gymnasts must be motivated, focused and talented to progress. If participating in the sport for recreation and not for competition, gymnasts may practice in the gym only once a week, but at team level, gymnasts may practice three or more times. Elite gymnasts practice as many as five days a week, before and after school. Elite artistic training includes stretching, conditioning, strength training, endurance training and practice on each event. Gymnasts may also study dance as part of their training.
References
Resources
Writer Bio
Ivy Morris specializes in health, fitness, beauty, fashion and music. Her work has appeared in "Sacramento News and Review," "Prosper Magazine" and "Sacramento Parent Magazine," among other publications. Morris also writes for medical offices and legal practices. She holds a Bachelor of Arts in government-journalism from Sacramento State University.