How to Replace End Caps on a Softball Bat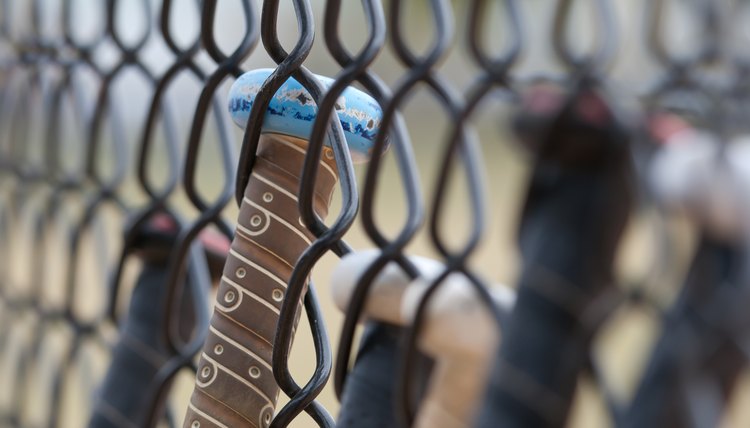 End caps on a softball bat are standard and in most leagues must be present on your bat before you are allowed to play. Inserted into the bat's barrel, end caps provide even distribution of weight and protect the inside of hollow softball bats. Sometimes, normal wear and tear will require that you remove and replace the end caps. Before doing so, make sure your league rules allow for self-repair.
Insert a flat-head screwdriver into the small gaps between the bat and end cap. Tap lightly with a mallet to ensure the screwdriver is deep enough. Once inserted, move the screwdriver around the circumference of the end cap to loosen adhesive. Pry the end cap upward with the screwdriver once the adhesive has been loosened completely.
Remove the end cap once it has been pried up to the point you can firmly grip it with your bare hands. When prying, ensure you pry up at all edges to work the end cap free from the perforated edging of the bat.
Clean your bat's barrel and apply a thin layer of urethane epoxy adhesive inside the bat using an old toothbrush or cotton swab. Do not put any adhesive on the cap.This will keep your new end cap in place, preventing it from loosening or popping out during play.
Insert your new end cap into the hole, securing it to the side grips of the barrel. You may need to lightly tap the end cap with your mallet; the fit is snug.
Wipe off excess adhesive from the outside of the end cap and barrel with a damp, clean rag. You do not want to wipe it with a used rag, because this can transfer dirt and bacteria to your bat.
Set your bat upright and allow it to set undisturbed for 24 to 48 hours. This allows adequate time for your adhesive to dry thoroughly. Do not place your bat in a damp area, or the adhesive will not set properly. You may secure a ratchet strap around the bat from top to bottom to ensure the cap stays in place while drying.
References
Writer Bio
Sharin Griffin has been a freelance writer since 2009, specializing in health-related articles. She has worked in the health-care industry as a certified nursing assistant and medical technician. Griffin's medical expertise encompasses bariatrics and geriatric care, with an emphasis on general medicine. She is completing an associate degree in health-care administration from Axia University.