Little League Baseball Rules About Uniforms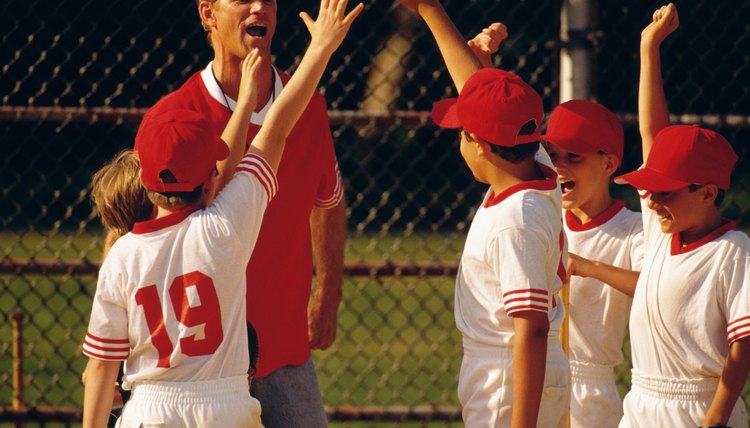 In the classic little league baseball film "The Bad News Bears," a reluctant coach learns just before the season starts he has to come up with team uniforms. He comes through at the last minute with white and yellow jerseys sponsored by Chico's Bail Bonds. In the real world, that sponsorship might stir some discussion, but Little League uniform rules are mostly concerned with an unified look and player safety.
The Uniform
According to the official Little League Rulebook, "Every member of the team must wear a conventional uniform which includes shirt, pants, stockings and cap. This may be a regular season uniform." Typically, umpires will be lenient in terms of every member of the team matching exactly. However, as teams advance into postseason play, umpires reserve the right to disqualify any player wearing a uniform unlike his teammates.
Safety Equipment
The rulebook states that every team must provide at least six NOCSAE (National Operating Committee on Standards for Athletic Equipment) approved batting helmets. All batters, runners and player-base coaches must wear helmets at all times. Players can bring their own batting helmets, but they must be NOCSAE approved with a warning label in sight. All players must wear an athletic supporter with a cup as well.
Catcher's Equipment
Catchers have to play in NOCSAE certified helmets, chest protectors and knee protectors. Chest protectors must cover the entire torso as high as the lower neck and as low as the abdomen. A throat guard, the type that dangles from the helmet, is also required. As of 2013, Little League catchers aren't allowed to wear the two-piece style helmets worn by players at higher levels. Catcher's cups must also be made of either metal, carbon fibre or plastic.
Approved Footwear
Due to safety risks, players can't wear metal cleats. The Little League suggests rubber cleats, but any non-metal athletic shoes are technically legal. Once players move to a large field size (from 46 to 60 foot mounds and from 60 to 90 foot base paths), most leagues allow them to wear metal spikes.
References
Writer Bio
Rob Costello is a journalism student at the George Washington University. He is a past member of the Division 1 baseball team at GW, and has been writing about subjects surrounding the MLB and other major sports for the past five years. Costello is an expert on pitching mechanics, baseball-specific exercises and the culture of baseball in general.